How B2B Companies are Leaving Money on the Table
The B2B revenue generation process is at an inflection point, but many executives haven't gotten the news.
Marketing has undergone a fundamental transformation in the past decade or so. Advanced marketers work closely with sales to define what a true lead or opportunity is, and then both groups use data-driven programs to deliver on their commitments. The result in the most advanced adopters is a process of constant improvement leading to increased opportunities, revenue and market share.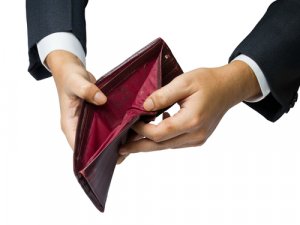 But some people in marketing are still more focused on creative and visibility, leaving the C-suite shaking its head about a profession whose best-known expression is, "Half the money I spend on advertising is wasted; the trouble is I don't know which half."
I recently studied the adoption of modern sales and marketing programs by 196 mid-market B2B companies that operate nationally and, in many cases, globally. From the outside I could observe whether they had undertaken at even the most basic level these 9 programs:
Analytics
Marketing automation
Remarketing
Search advertising
Search engine optimization
Conversion optimization
Content marketing
Social media marketing
Mobile-ready website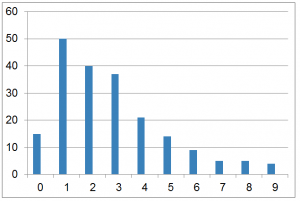 While each of these individually can contribute to revenue growth, when used in combination they are especially powerful.
I found that on average the companies are using less than 3 of these 9 programs; the median is 2.
If you think about this in terms of Everett Roger's innovation adoption lifecycle, more than 20 years after the release of the first Mosaic browser the use of sales and marketing technology is somewhere between Early Adopters and Early Majority.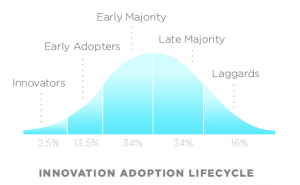 And this doesn't take into account other important technologies like predictive analytics and email marketing (the 800-pound gorilla of digital marketing), which can't be seen from the outside, or how companies could use all of these programs in combination with traditional channels such as events, direct mail, and print. If the adoption rate is so low, it's unlikely that they have very mature implementations.
Why is the adoption rate so low and what can companies do about it?
I think one of the big problems is that there are now over 1,000 companies selling sales and marketing technology in dozens of categories beyond the ones that I mentioned above. If anything the growth of tools and channels is accelerating. No one can be an expert on all of this and if you haven't been keeping up with it for the past 15-20 years you don't know where to start. You don't know what the names even mean, or which of these are most important for your company or industry. And since so few of your peers are using them you don't even have people you can ask for recommendations. The most common word marketers use to describe themselves today is "overwhelmed" .
And that means that there's still an early adopter opportunity for the B2B companies that do move on this before their competition. How can you get started? Here are a few suggestions:
Recognize the opportunity
First, people in the company have to recognize the opportunity and commit to a major investment in learning and doing something new. This is a mind-shift that some people find difficult to make. Realize that you're getting outside of your comfort zone, but that's where the biggest opportunities are.
Build the team
The sales and marketing teams are going to need people with new technology and data skills. Either the current people will need to learn those skills or you'll need to hire people with them; most likely it'll be a combination of both.
Align sales and marketing
To maximize revenue sales and marketing need to work together closely. Best practices include a written service level agreement between the two defining leads and opportunities and which is responsible for what, such as "marketing will deliver X qualified inbound leads per quarter" and "sales will call a priority marketing qualified lead within Y minutes" . This SLA needs to be constantly (weekly) reviewed and updated based what is learned from working together.
Respect the data
The data will provide surprising insights. For example, the head of digital marketing at a large insurance company once told me that they get very different results from online ads for "auto insurance" versus "car insurance" . You can't rationalize your marketing spend without gathering and analyzing data and intelligence. Respecting data doesn't mean being a slave to them, but it does mean that when you make a decision with your gut it's a well-informed gut.
Prioritize the technology
Based on your study, and the input from experienced consultants, prioritize short-, mid- and long-term opportunities. Six programs that are especially important for B2B companies are analytics, marketing automation, conversion optimization, remarketing, email marketing and have a mobile-ready website.
Experiment, track, analyze and optimize
This is all about iterating. Not everything that you try will work. Phase out the failures and ramp up the successes. And the most successful companies will combine new channels with traditional programs.
Companies that embrace this new approach to revenue generation have a terrific opportunity. It's theirs to grasp.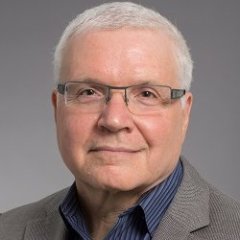 Louis Gudema is the President and Founder of revenue + associates, a firm that helps companies significantly increase their revenue through measurable improvements in sales and marketing. You can follow Louis on LinkedIn, Twitter, or Google+. 
B2B marketing, B2B Marketing best practices, B2B marketing tactics, data intelligence, data-driven marketing, Marketing, marketing technology, Measurement, sales and marketing alignment