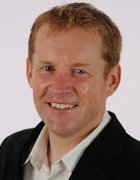 Mark Tonsetic
IT practice leader -
CEB -
Mark Tonsetic is IT practice leader at CEB, a best practice insight and technology company, where he works with IT leaders in infrastructure and applications.
Prior to joining CEB in 2006, Tonsetic was an associate at Booz Allen Hamilton. From 1995 to 2003 he was on active duty in the United States Navy, providing functional and technical support to Navy units worldwide. He holds a bachelor's degree from the University of Pennsylvania and a master's from The George Washington University.
@ThePlumLineGS I've lived there for 13 years. Never knew that anyone outside local sports teams and summer leagues used our fields.
9:01 AM - 14 Jun 17
Mark Tonsetic's Most Recent Content