Performance considerations
Any storage system space-saving features will have a tradeoff in terms of sacrificing some performance. The master images and replicas deployed in a VDI solution will be subject to significant read I/O activity, so they should be placed on the fastest storage media available, preferably solid-state drives (SSDs).
Of course it's not essential to place all virtual desktop data on SSDs -- it will likely be cost-prohibitive to do so. Where possible, tiered storage implementations should be used to allow high-performing devices such as SSDs to handle the most active VDI data. Storage tiering is therefore essential in VDI solutions to achieve TCO and ROI benefits.
Solution sampler
Storage vendors typically address VDI storage requirements by deploying high-performing storage based on SSD and Fibre Channel drives. However, there are a number other vendor approaches that specifically deliver optimized storage for VDI.
Atlantis Computing Inc. offers Atlantis ILIO, a software application optimized for VDI environments based on Citrix XenDesktop and VMware View. The ILIO software layer reduces latency, I/O to physical disk and storage capacity requirements. As a result, VDI solutions using ILIO can be deployed simply using low-cost, high-capacity SATA drives.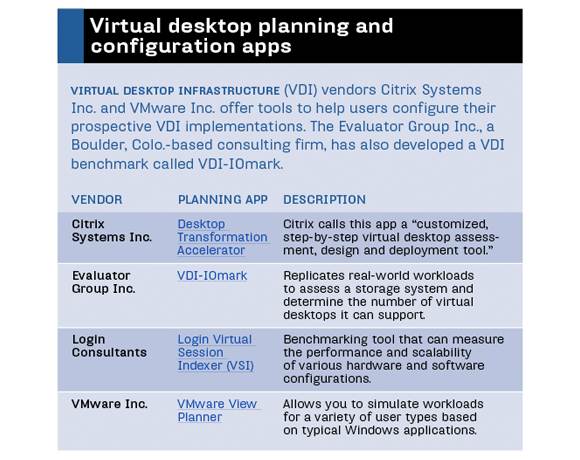 NetApp Inc. filers are well suited for VDI deployments. NetApp?s Write Anywhere File Layout (WAFL) file system effectively converts random I/O into sequential writes, making it suitable for VDI deployments. NetApp Flash Cache (formerly called Performance Acceleration Module or PAM) cards accelerate read requests, caching master images and replicas. Finally, NetApp FlexClones enable virtual desktops to be easily replicated from master images while requiring only very small amounts of storage overhead.
Both Nimbus Data Systems Inc. and Pure Storage Inc. offer solid-state arrays for VDI. Solid-state arrays are excellent at meeting random I/O. Products from Nimbus and Pure Storage use compression and deduplication to reduce the TCO of deploying SSD arrays.
The VDI storage bottom line
Deploying storage for virtual desktops is all about managing random I/O and high IOPS demand. These requirements must be balanced against the ROI of consolidating desktops into the data center, otherwise the benefit and savings from implementing VDI may fail to be achieved.
BIO: Chris Evans is a UK-based storage consultant. He maintains The Storage Architect blog.
This was first published in June 2012