This is verified evidence of a technology initiative. A Qualified Sales Opportunity offers Sales teams the information they need to achieve an immediate "at bat." Because these prospects know us as an objective third party, they allow us to perform rigorous validation so you don't need to. All you need to do is engage aggressively. Our clients' Marketing and Sales teams value Qualified Sales Opportunities uniquely for:
Bolstering pipeline quickly because they deliver documented  evidence of a deal in process that otherwise might have been missed
Increasing win rates by providing details essential to success that are far more detailed than what's in anyone's CRM
Outmaneuvering competition by identifying their prospects to you and exposing what's resonating so you can address it directly
Accelerating Marketing contribution to Sales because they deliver exactly the kind of outputs Marketing struggles to discover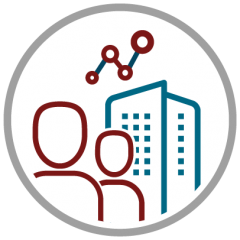 There are only so many active projects in any given segment; thus, Qualified Sales Opportunities are in limited supply. To be fully "in the game," our clients choose Qualified Sales Opportunities to make sure their business is competing aggressively for every opportunity available in their space.
There are deals happening right now. Qualified Sales Opportunities deliver what you need to know and do to get in on the action as it unfolds.