4 Reasons Why Your Marketing Plans Shouldn't Take a Summer Vacation
Taking on the Myth of the Summer Marketing Slowdown
Now that the sun is hanging around longer and the weather is starting to get warmer, we are all starting to think about our plans for the Summer.
That being said, how many of you have heard about the proverbial "Summer Marketing Slowdown"? I have often wondered what the origin of this is – depending on who you talk to, you would think the entire technology buying sector completely checks out between Memorial Day and Labor Day. No doubt many people take vacations in the Summer and certain countries and cultures traditionally have longer holiday periods, but have you ever heard of business coming to a grinding halt for more than 2 months in any industry?
Obviously we all know that businesses do not just shut down. However, because the "Summer Marketing Slowdown" seems to be a viewpoint held by many tech marketers, I decided to  put it to the test to see if there is a truly valid reason for letting up on the gas in the Summer.
Summer Marketing: Hit the Beach or Hit the Phones?
To the right is a quick, down and dirty analysis I did looking at leads generated from the Top 5 companies on the TechTarget network in 2013. For many, what you see may surprise you. Not only is there no early year build-up followed by a dramatic falloff, but the activity for these accounts actually increased in the summer.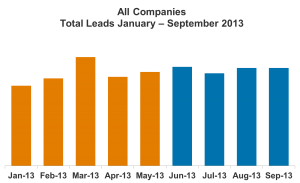 To make sure that the results weren't completely skewed by the data from only these accounts, I looked at the lead volume for all companies across the TechTarget network for 2013, well over 3.5 million leads. Guess what? The trend is exactly the same.

Based on these numbers, you may want to think twice about avoiding those summer months.
4 Reasons You Should Think Twice About Scaling Back Summer Marketing Efforts
If your buyers are not slowing down in the Summer, why should you? Despite the rising temperatures, here are 4 reasons you need to turn up the heat on your marketing efforts this Summer.
1. Share of Voice
Even if buyers take their requisite vacations, we all know that technology is a team sport and fellow team members will be there keeping projects moving forward. You can't afford to lose ground on essential project research being done during these and all months of the year. While your competitors are off enjoying the fun in the sun, your marketing will be working hard to put you in the driver's seat when it comes to gaining market share and winning deals. 
2. Lead Qualification
Buyers who respond to your campaigns in the Summer are no less qualified than buyers who respond at other times in the year. In fact, they may even be more qualified. Theoretically, with less clutter in a buyer's inbox, marketing and sales have the opportunity to have more productive engagements, move prospects through the cycle, and qualify buyers in a more streamlined fashion.
3. Brand Equity
In B2B and technology marketing, there is nothing more powerful than your brand. Not only is the equity of your company tied up in it, but when all else is equal, your brand is critical when it comes to making or missing a vendor shortlist. Imagine for a minute that buying actually did take a vacation during the Summer. When it picks back up, would you want to risk missing a shortlist because your brand dropped to the bottom of the list when you went dark?
4. All Companies Do Not Have a Calendar Fiscal
There are countless number of high profile companies that buy ALOT of technology that don't view the Summer the same way you do. Companies like Rite-Aid; John Deere; Bed, Bath & Beyond; Cardinal Health; General Mills, Best Buy; and many more. In fact, approximately 35% of all public companies do not operate on a calendar fiscal. And these are just the public ones – many small and medium-sized private companies are on a non-calendar fiscal as well. To take a closer look –  of the small sample of companies mentioned above, 3 of those 6 companies had more than 31% of their total 2013 lead activity on the TechTarget network in the June-August timeframe.
So – are you absolutely convinced that the deal that could make your year is not happening in June, July or August?
I certainly don't want to prevent all you technology marketers out there from enjoying yourselves this Summer, but before you put back that first umbrella drink, you need to make sure your Summer Marketing strategies are in place.
I'd love to know where your marketing is going for the Summer. Feel free to leave a comment or connect with me on Twitter or LinkedIn.          
brand equity, branding, demand generation, demand generation tactics, lead generation, lead generation strategies, share of voice, summer marketing