Flape, Floud, Nomophobia and Other New Technology Terms Marketers Should Know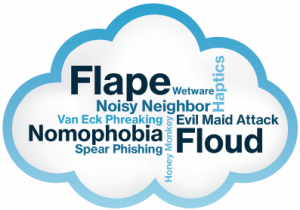 One of the many challenges that technology marketers continue to face is the dizzying amount of new technology terms, acronyms and phrases that seem to enter our vocabulary every day. It almost seems that a new language is emerging that is only being spoken by serious technology practitioners. How do technology sales and marketing teams keep pace with the never-ending onslaught of new tech terms in order to stay fluent and up-to-speed in their communications with IT pros?
Technology Spoken Here
As the authority on the English language, the historic Merriam-Webster dictionary annually nominates and adds new words and terms to stay current with how we communicate with one another. Last year alone, Merriam-Webster gave final seal of approval to over 1,700 words most of us have been using for years by adding them to their most current unabridged American dictionary. In my own quest to stay up-to-date with the latest terminology within the fast-moving world of enterprise technology I often rely on WhatIs.com as a regular resource, along with the WhatIs.com tech word of the day delivered to my inbox every morning. Depending on your own areas of focus, I would suggest poking around the WhatIs library of content to help self-educate yourself on the latest and greatest tech terms and definitions. In the spirit of sharing my new found knowledge, here is a glossary of my top ten favorite tech terms from this past year:
Fine-tune industry knowledge and expertise
There is no shortage of best practices, advice and on-the job-training for technology marketers when it comes to things like content marketing, demand generation, and more – even in the pages of this very blog. However, scarce are the resources to help build more industry knowledge and expertise. Especially if you work in some of the more niche segments of the technology market.
While these are some of the more interesting new additions to the technology lexicon, this list only represents a small sampling among the thousands of technology terms, phrases and acronyms that are added to our growing technology vocabulary every year. I welcome you to share any other new and emerging technology terms that B2B marketers should be on top of. Please feel free to post your favorite new tech terms in the comment section or share them with me on LinkedIn and Twitter.
industry expertise, technology marketing best practices, technology terms, TechTarget, WhatIs