In-Person Events Redefined for the Social Age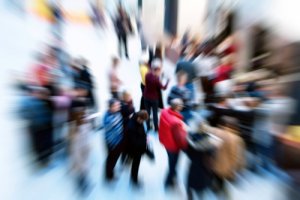 As a marketing professional, it is undeniable how the world in which we live has become much more centered around social, mobile, and digital engagements.  As such, the marketing mix is changing to align with how our customers are consuming information. Redefining how we engage with our customers is key; especially given about 60% of B2B buyers are either making their buying decision or have well-informed opinions prior to engaging with sales, and over 90% of buyers start their searches online. Today customers are well informed and digitally driven, they are socially connected and connected with peer-based social networks, they are mobile and empowered, and, most importantly, they expect exceptional knowledge and first-class service when they engage.
The question as a marketer is – does the new buyer's journey make face-to-face or in–person events obsolete? How can we use them differently in our ever-growing socially connected world?  Interestingly, in a recent study, some 70% of marketers favored in-person events over 12 other tactics including social media, website articles, blogs, white papers, e-newsletters, case studies, webinars/ webcasts and online presentations. (For more on this study click here.)
In the past, in-person events were sort of a "step one" in the customer engagement process and served as a "first contact" for many. Fast-forward to 2014, and events are very different. Now we can leverage social media to make them much more valuable and efficient.  Customers arrive more informed than ever before and, as such, we should work to have them arrive at an in-person event ready to get the most out of them.
Aligning In-Person Events to the Buyers Journey
Today, in-person events are being used differently, and should align to the buyer's journey.  Leveraging social media, digital campaigns, mobile and social campaigns upfront is vital. However, meeting with customers to reinforce best practices and approaches can be instrumental in closing the deal. It's a balancing act, and as marketers, targeting the right audience at the right time with the right content is critical.  I believe becoming more audience-centric is the key to unlocking marketing success.  Understanding and listening to our customers is imperative to correctly position the solutions we market in order to solve the problems our customers have.
A great example of this type of redefinition of an in-person event was EMC's presence at Sapphire 2014.  The booth was used for meetings with over 50 customers, our presence driven by social media and customer engagements where we worked together with our partners to solve their business challenges. The EMC booth helped promote social engagements leading people to a CrowdChat about EMC's Big Data Platform Strategy for SAP, showcasing what EMC is doing around their #EMCGivesBack program with #CharityWater to help build wells in Ethiopia by raising funds via Twitter, or solving real business problems for our customers leveraging best-in-class solutions and methodologies.
#EMC is donating $10/tweet or RT to #CharityWater at #SAPPHIRENOW @furrier @TheEllenShow @charitywater @danacarvey pic.twitter.com/qR6xYLEAwr

— Sylvie Otten (Sollod (@sylvie75015) June 3, 2014
Mission accomplished! #EMC will donate $10k to @charitywater due to our social media accomplishments! #SAPPHIRENOW pic.twitter.com/dRmZW3gXYW

— Dell EMC SAP (@DellEMCSAP) June 5, 2014
Leveraging social, mobile, digital, we can begin to understand our consumers better, target our personas more aptly, and engage with these influencers and decision makers earlier to develop the relationships we can then build upon when we meet face-to-face. No longer are in-person events a place for just driving awareness and leads, but instead are being used to drive business outcomes, and can be leveraged as an opportunity to drive the sales process further along in a high-touch manner. Social media drives efficiency, and can increase the value of in-person events.
Sylvie Otten Sollod currently leads the EMC Global Campaigns for EMC SAP solutions and enjoys learning, collaborating, and engaging. Sylvie has over 20 years of marketing experience and has developed successful marketing campaigns to drive revenue working with Marketing and Sales teams around the globe, System Integrators, Service Providers, Channel Partners, and Technology Alliances. You can follow her at @Sylvie75015 or read more at Sylvie's Blog.
event marketing, events for IT pros, IT events, social listening, social media, social technology events, technology marketing event