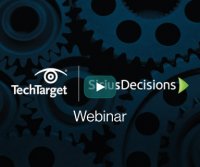 Why externally sourced data is vital to improving B2B marketing performance
Exciting new data sources like purchase intent are revolutionizing B2B marketing outcomes right now. And if you're not taking advantage of 3rd party data to augment data you collect, you're likely missing opportunities to improve pipeline impact quickly. Watch this webinar from SiriusDecisions and TechTarget to see new research and get practical examples on which types, sources and uses of data will deliver better results.
After watching, be sure to request a personalized walkthrough to see directly how purchase intent insight within TechTarget's Priority Engine platform can help you drive better ROI within your marketing efforts.