COVID-19 has had a significant impact on IT budgets and priorities. While most organizations remain laser-focused on digital transformation and IT modernization, they are also adapting to changes in remote work, digital supply chain management, business resiliency and other challenges that have been brought to the forefront by the global pandemic.
One of the changes triggered by COVID-19 has been an acceleration to the cloud focused on increasing the scale and scope of remote work, specifically adding capabilities for remote workforce productivity, security and collaboration, according to a study fielded in August 2020 by Hewlett Packard Enterprise (HPE).
The study was focused on uncovering evolving attitudes toward the cloud, including several questions specific to COVID-19 and IT spending patterns. It captured responses from nearly 5,000 IT decision-makers, line-of-business managers, developers and data scientists across North America, Europe, India, Japan and Asia-Pacific regions.
As expected, the biggest area of concern among decision-makers had to do with supporting the unprecedented and unanticipated shift to remote work, across all global regions and industry sectors.
When asked to identify critical drivers of COVID-19 investment, respondents cited remote workforce productivity (51%), remote workforce cybersecurity (50%) and remote workforce collaboration (48%). The next highest priorities were budget reductions and cost containment, accelerated software development through containers and Kubernetes, and mobile device proliferation (see chart).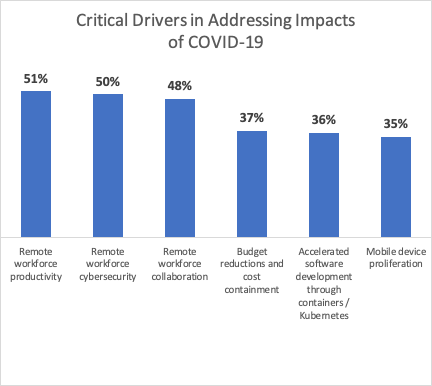 Source: Hewlett Packard Enterprise study, August 2020
One possible surprise in the statistics: Despite the changes caused by COVID-19, cloud computing and digital transformation, most companies are still spending more of their IT budgets on projects related to maintenance as opposed to initiatives focused on innovation. When asked to reflect on how the mix between maintenance and innovation projects in IT budgets has shifted, respondents indicated very little change, with more than half saying they spend 60% or more of their IT budgets on maintenance—a watermark that has not changed significantly in the past two years.
Clearly, many organizations are viewing IT investment to help navigate uncertain and changing market conditions caused by COVID-19. However, addressing the balance between maintaining an IT estate and innovating across it has never been more important, especially given rapidly changing market conditions and the need to support a remote workforce during the global pandemic.
The HPE research found that IT organizations need only look inward, at improving IT efficiencies, to begin to tip the budgetary scales in favor of ongoing innovation projects. Respondents reported that, on any given day, slightly more than a third of their provisioned infrastructure capacity is going unused across both their public cloud and on-prem estates. This translates, on average, to 15% in suboptimized annual IT spend due to potentially misaligned infrastructure.
When taken together, the imbalance between maintaining and innovating across IT infrastructure and the suboptimization of capacity utilization across hybrid and multicloud estates speaks to the urgency of embracing technology solutions that are more automated, intelligent and simpler to manage.
'Digital Game Changers'
For some companies, the IT changes spurred by COVID-19 are supporting long-term transformation of business processes and business models. For example:
Taking the Next Step
The use cases cited in this article are just four examples of organizations using IT creatively and innovatively to achieve business transformation. In these four cases, the changes were caused by a major global event, namely the COVID-19 pandemic.
However, while COVID-19 has certainly been a game changer, there were many pre-existing reasons why digital transformation has been the main driver of IT investments and innovation for several years. In today's environment, no organization can afford to be disrupted by new digitally based business models, and all organizations must find a way to meet the changing requirements of customers, employees and partners.
The articles in this information hub, as well as the hyperlinks to additional resources, provide an overview on how innovative companies are using IT as an enabler of business transformation, including more specific details on the use cases described here. In addition, the hub provides an overview of key technologies required for current and future success.