Digital transformation continues to be one of driving forces behind business and IT investments across all industries. IDC says the economy "remains on course to its digital destiny," estimating that digital transformation will drive nearly $7 trillion of investments from 2020 to 2023. According to the research firm, by 2023, 75% of organizations will have comprehensive digital transformation roadmaps, "resulting in true transformation across all facets of business and society."
Rather than dampening the push to digital transformation, the global COVID-19 pandemic has actually been an accelerant. IDC found that 60% of enterprises planned to invest more heavily in digitalizing the employee experience in 2021, and 30% of organizations are accelerating innovation to support business and operating model reinvention, "fast-tracking transformation programs to future-proof their business."
These findings are echoed by exclusive TechTarget research, which shows 29% of IT decision-makers believe the pandemic has accelerated or made it easier to justify digital transformation investments. The study found that IT is responding to a "new reality with greater emphasis in digital transformation, digital experience, customer experience and employee experience as more and more business interactions are conducted digitally/remotely."
For IT teams navigating the path to digital transformation, the challenge is to move quickly but not hastily. That means choosing the right environment for each workload, focusing on key issues around security, resiliency, business continuity, control, compliance, and performance.
Cloud as an experience, not a destination
Because cloud computing offers benefits in agility, economics, speed and scale, cloud has become a key enabler in making digital transformation possible. The key for IT is to view the cloud not as a destination but as an experience. That's why hybrid cloud has become the go-to path for IT teams in the COVID and post-COVID era. More than 90% of enterprises in 2022 will rely on a mix of on-premises or dedicated private clouds, multiple public clouds and legacy platforms to meet their infrastructure needs.
What does "cloud as an experience rather than a destination" actually mean? Basically, it's about realizing the key benefits of the cloud―increased agility, as-a-service delivery, consumption-based pricing, cloud-native development, simpler management, unlimited scale, integrated security and compliance—without worrying about whether the workloads and applications are located in the cloud, on premises or at edge locations.
A hybrid cloud experience gives the organization what it needs to accelerate digital transformation, while providing IT teams with the control they need to ensure that cloud migrations are cost effective, secure, strategic and less risky—while still empowering cloud-native development for new and existing applications and services.
It is also important to recognize that not all workloads and applications are created equal and that each should be carefully considered and put in the environment that makes the most sense. Some should be in the public cloud; some are natural software-as-a-service applications; and some should operate in a data center or colocation environment. A key step is to find the right mix of cloud for your various applications and workloads.
In addition to hybrid cloud, another aspect in navigating the path to digital transformation is to view it as a framework encapsulating a broad range of business issues and functions―not just the technology, but also overall business strategy, people and cultural issues, operations, security and more. The following chart provides a vision of such a framework: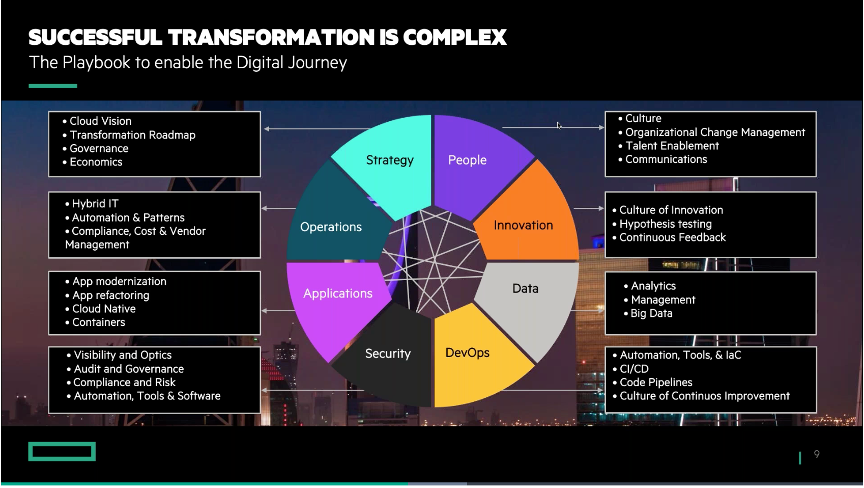 Digital Game Changers
Here are examples of three "Digital Game Changers" that have leveraged the hybrid cloud experience to accelerate digital transformation initiatives:
Canterbury District Health Board is responsible for the care of more than half a million people in New Zealand, with more than 10,000 employees. A devastating earthquake in 2011 was the catalyst for digital transformation, and hybrid cloud was the path. Hybrid cloud empowered Canterbury to embrace telemedicine even before the pandemic, enabling more than 7 million telemedicine visits in 2018 alone. Canterbury also uses hybrid cloud for its electronic health records systems, patient and family engagement, diagnostics and much more. With artificial intelligence, Canterbury District Health has increased the speed of CT scans by 150 times.
Au Kabucom Securities is a digital securities company based in Japan. It was seeking flexibility and agility equal to the public cloud, with automated provisioning and a monthly pay-as-you-go model for use of infrastructure. A key part of the transformation was to link public cloud infrastructure from AWS and Azure with on-premises infrastructure from Hewlett Packard Enterprise. The company has leveraged a wide range of solutions, including HPE GreenLake and HPE storage, servers and networking, along with HPE Pointnext Services, to reduce the lead time for infrastructure deployment to zero. It also gained flexibility and agility equal to the public cloud, with automated provisioning, security and reduced risk.
YF Life Insurance International is a Hong Kong-based financial services firm using technology innovation to transform its business and continually deliver greater value to policyholders, consultants and business partners. The company needed a flexible IT infrastructure and chose HPE GreenLake for its cloud-like agility and pay-per-use economics, with on-premises control to meet strict regulatory compliance requirements. With HPE, YF Life has lowered capital expenditures by 35%, with a three-year return on investment. The company has flexibility to scale infrastructure up or down to meet dynamic business demands and provision IT resources in minutes instead of hours. The solution also provides on-premises control over data sovereignty and cybersecurity.
Taking the next step
Digital transformation is not something that can be delayed, but it can't be done without a solid plan and strategy in place, based not only on the technology but also on the overall needs and goals of the business. HPE can help IT on the digital transformation journey at every stage of the process. For more information, please visit HPE.