Data
Backup
Cloud Backup: What You Need to Know to Get Started
If you're curious about how to best protect your data and what's going on in the cloud backup and recovery market, you've come to the right place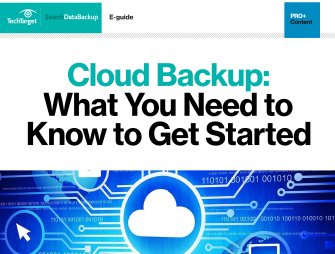 There are so many variants of what's being offered as "cloud backup" that an important first step is understanding just what is meant by that term. Next critical steps include peeling back pros and cons, exploring key features and functionalities, learning the cloud backup vendor landscape, and following best practices to guide vendor selection.
Have you asked yourself … what's cloud backup? How does it work? What are the differences between various data backup methods? What products are available right now? What do these products cost? What items should be on my checklist list before, while and after I implement a new tool?
You're not alone.
Whether you need basic steps outlining how cloud backup works or are ready to buy but need expert, unbiased advice on final steps, this resource is for you.
In this comprehensive guide, you'll receive a(n):
Explanation of how cloud backup works
Breakdown of 4 approaches to cloud backup
Cloud backup checklist covering key features
Comparison of types of backup options (full vs. incremental vs. differential backup)
Look at costs and total cost of ownership (TCO)
Look at advantages and disadvantages to using cloud backup services
Analysis of security considerations
Overview of vendor options (including Acronis, Carbonite, Druva, Veeam Software, and others)
And more
ONE OF THE MANY EXCLUSIVE IMAGES INSIDE: