Disaster
Recovery
Business Impact Analysis Questionnaire Template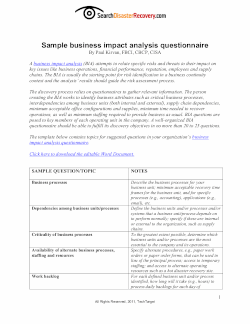 Business impact analysis (BIA) questionnaires are extremely important because they simplify the business impact analysis discovery process; provide for uniformity of questions; and provide ease of entering answers into a suitable repository for analysis, such as a spreadsheet.
Here are some sample questions/topics and associated notes:
Business process: Describe the business processes for your business unit; minimum acceptable recovery time frames for the business unit, and for specific processes (e.g., accounting), applications (e.g., email), etc.
Dependencies among business units/processes: Define the business units and/or processes and/or systems that a business unit/process depends on to perform normally; specify if these are internal or external to the organization, such as supply chains.
Criticality of business processes: To the greatest extent possible, determine which business units and/or processes are the most essential to the company and its operations.