Disaster
Recovery
Help Desk Disaster Recovery Plan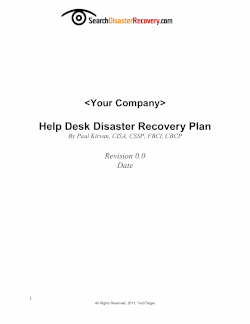 The process of developing a disaster recovery plan for help desks should be a relatively easy process. The keys to success include defining step-by-step response and recovery procedures, validating these activities through tests, and keeping the plan up to date.
A snapshot of help desk disaster recovery and template components:
Initial data: If you've identified various help desk and non-help desk personnel to contact in an incident, position their contact data at the front of the plan, so you won't have to waste valuable seconds paging through a lengthy document.

Revision management: Have a page that reflects your change management process.
Purpose and scope: Provide details on these attributes, as well as assumptions, team descriptions, a list of terms, and other background information.
Emergency instructions on how to activate the plan: Provide data on circumstances under which the plan will be activated, including outage timeframes, who declares a disaster, who should be contacted and response procedures to be used

And more
About the creator of this template:
Paul Kirvan, CISA, CSSP, FBCI, CBCP, has more than 20 years experience in business continuity management as a consultant, author and educator. He has been directly involved with dozens of IT/telecom consulting and audit engagements ranging from governance program development, program exercising, execution and maintenance, and RFP preparation and response.