Nomad_Soul - Fotolia
News
Stay informed about the latest enterprise technology news and product updates.
Will IT generalists replace network engineering jobs?
Network engineering jobs have moved from crimping cable to managing traffic between VMs. Software-everything means another seismic shift. Is the network engineer still relevant?
Twenty years ago, Leon Adato knew he was a network engineer because he understood the physical layer, had a handle on how far a single line could run before attenuation and could configure a variety of network interface cards across a spectrum of operating systems.
Oh, the good old days of 1995 -- when the World Wide Web was just learning to crawl, when email was a novelty and the 56 Kbps modem was still a pipe dream.
Today, what it takes to be a network engineer is not so clear. Whether it's software-defined networking (SDN), DevOps or the integration of cloud computing, new technological forces are shaping the role of today's engineer like never before. As traditional technology silos continue to break down, some IT departments are looking for so-called generalists who can comfortably move between the worlds of networking, security, systems, storage and software.
But that could be a strategic mistake.
Engineers and experts contend that the need for specialized network engineering jobs isn't going away. Job roles and responsibilities will expand and change, they say, but those skills must be anchored by a fundamental understanding of what makes a network function.
"Today's networking professional stands on the cusp of a sea change," says Adato, who after decades of engineering experience is now a head geek and technical evangelist at networking monitoring vendor SolarWinds. "SDN, Internet of Things, cloud and hybrid cloud -- and their associated security needs -- all stand to impact the scale of networks and the volume of data they transmit in ways unimaginable just a few years ago."
Adjusting and reacting to new trends
While the core responsibilities of network engineering jobs -- the ability to design, understand, implement, and maintain hardware and software -- remain vital, it's the knack to adjust and adapt to new technologies and demands that have become equally important job attributes.
"If you ask me why I consider myself a networking professional today, it's not because I can rack and stack a core switch in under 20 minutes," Adato says. "I understand all of that, but I'm [also] mentally ready for what comes next."
Tomorrow's cadre of IT professionals will likely find it's still possible to embrace the notion of what it is to be a network engineer -- with caveats, of course.
I did a search on Monster for a 'network engineer,' and what I found is that what companies are looking for in a network engineer is a mile and a half long.

Keith BarkerCBT Nuggets
"We can go back and take a look at the 'traditional' network engineer of a decade or so. If it's just Layer 2 switching and Layer 3 routing, that still has a lot of complexity," says Keith Barker, an instructor and consultant at IT trainer CBT Nuggets. "And [at] huge companies like Google or AT&T, having a career as a full-time network engineer, in the classical sense, is absolutely possible."
But at most other enterprises in 2015, the definition of that traditional engineer has changed dramatically, Barker says.
"I did a search on Monster for a 'network engineer,' and what I found is that what companies are looking for in a network engineer is a mile and a half long," he says.
Tasks that once included such prosaic functions as provisioning a frame relay link or crimping cable have expanded to encompass responsibilities like integrating virtual environments, plotting SD-WAN links and -- in some cases -- writing code. As Barker sees it, "Even if a network engineer isn't a typical operating systems specialist or Windows administrator, they are still going to be heavily involved and need to know how protocols work. Being a network engineer means being aware of the systems, the operating systems, the servers and devices that are part of the network."
That knowledge will remain crucial. There isn't a single organization that can afford to have its network infrastructure fail. And as even more devices become Internet-enabled, network performance and uptime will depend on those engineers who have a deep understanding of the devices and components that make their networks tick.
Migration from hardware to virtual adds pressure
But what happens when many of those network components are virtualized, and what used to require cables, wires and metal frames now consist entirely of software? As commoditization gains traction in the data center, network engineering tasks that were once distinctive become nothing more than a chore that's duplicated again and again through automation.
"The job used to be complicated enough that [the tasks] wouldn't be repeatable," Adato says. "Now you have a master image of your server build and just pop them out. Why do you need a server guy for that? I can go to Amazon Web Services, click a couple of boxes, go get a cup of coffee and when I come back I have an Exchange server."
Nemertes Research CEO and senior founding partner Johna Till Johnson says it's exactly that type of technological innovation that is reshaping network engineering.
"There will always be a role for people who understand protocols at the bits-and-bytes level and the performance level, and who can troubleshoot problems," she explains. "But as the infrastructure itself becomes virtual, you no longer need to understand how to configure a particular box, but you do need to know what network to build on the fly to support a particular business function."
Network architect Nick Buraglio is unequivocal when he discusses the future of tomorrow's network engineering jobs. While he acknowledges the implications of evolving technologies like SDN and networks functions virtualization, those trends don't obviate the need for IT staffers whose primary focus is nuts-and-bolts network engineering.
"I like to use the analogy that cars have gotten much more complicated, but it still doesn't change the fact that, at their most basic level, they are still internal combustion engines," he says. "Regardless of how many electronics you throw on top of them, if you don't have somebody who understands internal combustion engines, eventually they will break down and people will no longer be able to use them."
The same is true networking, Buraglio explains.
"There will always be a need for people who really understand the nuts and bolts of the protocols and how they interact together," he says. "You can click a button all day long, right? But if the programming in the back end of that button is incorrect, somebody is going to have to understand how to fix that. It might be a developer, but it may also need to be someone who is savvy and understands the inner workings of that network equipment."
Demand for basic skills remains strong
That doesn't mean that enterprises need to employ engineers capable of understanding everything about everything. But Buraglio and others argue that the demand for network engineers -- not IT generalists -- remains, even as software-centric topologies and technologies take root.
"Say you have a big SDN implementation and something breaks down. You may have your first-level guys and all they know how to do is look at the controller," Buraglio says. "Someone is going to ask, 'Well, the controller isn't displaying what we expect, so how do we find out why?'
"Protocol interfaces may change, but that underlying, fundamental knowledge of networking -- while it may diminish over the next decade -- will never completely go away as long as we have networks," he adds.
Adato agrees that even as IT departments embrace more cross-discipline roles, networking job skills aren't going away. If anything, he says, networking will require more focus and more commitment.
"You may want to be a virtual guy, or a storage guy, or you may want to be a DevOps guy," he says. "It doesn't matter; you're going to have to understand networking. It's not that you are going to be minoring in networking; it's going to be a double-major."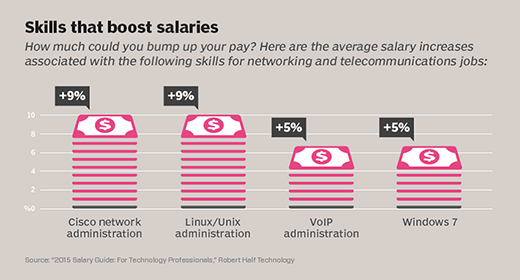 Peter Morrissey, director of networking at Syracuse University (SU), uses his networking background -- he started in the business in the early 1990s after deciding he didn't want to be a social worker -- to determine what kinds of engineers to hire to support the school's sprawling network.
"For a senior position, I'm really looking for someone with good, solid network engineering skills, but I will say that I am beginning to pay more attention to the programming background," he says.
That's a skill Morrissey believes will be more necessary if or when SU decides to adopt SDN.
"I'm aware of the potentially growing need for that skill, but I wouldn't say it's a requirement by any means at this point," he says.
Understanding the underpinnings of network design
But even as SU's network architecture shifts, "there will be lots of little pieces that need to be replaced, added in and upgraded, so network engineer skills will be needed," Morrissey says. "Even if SDN becomes more prominent, you're still going to need people who understand the underlying network design principles."
That demand will remain as long as legacy networking equipment continues to anchor organizations' computing infrastructures, according to Amy Larsen DeCarlo, a principal analyst at Current Analysis.
"Companies still have a lot of equipment they've invested in, and they are going to need somebody who is able to manage and work with that equipment rather than having to train someone," she says.
Finding those people may be easier said than done. The SDN-fueled transformation of networking comes at the same time when a new generation of engineers is just entering the workforce -- men and women who may be more interested in finding the next big iPhone app than understanding how to troubleshoot a balky router, says Nemertes' Johnson.
It's not just about ports and protocols, however. Some aspiring network engineers aren't coming into the workforce with the soft skills either, Johnson contends.
"I think it's going to be a challenge for Millennials because what we need in technology is technical skills, analytical abilities and people-facing skills, and the Millennial generation isn't producing those kinds of folks," Johnson says.
Barker at CBT Nuggets offers a different perspective, saying that younger engineers will be as naturally able to handle evolving networking technologies such as network functions virtualization and load balancing just as earlier generations learned about routing tables and switch configurations. But this implies a generalist approach to networking and IT, one that's "an inch deep and a mile wide," Barker says. It's a model that poses other challenges -- for both the engineer and his or her employer.
"[Employees] will be hurting as far as making themselves stand out as a super valuable asset for their company," Barker says. "They will be expected to understand network fundamentals, but they also should be able to identify the five or 10 key areas companies will need to fill and make sure they are ready for that."
Next Steps
The wireless skills gap: Why isn't IT education keeping up?
Networking salaries grow, but money isn't all that matters
SDN will reshape network engineer job descriptions, not delete them
This was last published in
June 2015
Dig Deeper on Networking careers and certifications