skvoor - Fotolia
A strong SD-WAN business case starts with evaluating your current WAN
The first step in creating a strong SD-WAN business case is evaluating your organization's current WAN infrastructure. Then, you can compare the potential savings and benefits.
Software-defined WAN is reshaping how we think about the wide area network -- a change as profound as the advent of server virtualization, which completely transformed data centers over the last 10 years. The technology boasts the potential for dramatic savings, but companies first have to create a strong SD-WAN business case.
In its most complete form, SD-WAN combines the simultaneous use of multiple, diverse communications links in each site location with intelligent traffic direction across those links. These links are controlled by a centralized, policy-driven management system. The goal of SD-WAN is to provide the following features:
Resilience -- by using multiple links, with transparent traffic failover among them, as well as more arcane techniques like sending the same packets down multiple pathways to ensure delivery;
Performance -- through traffic prioritization and other techniques;
Simplicity -- via the ability to manage the WAN as a whole, instead of as a collection of separate devices; and
Savings -- via the ability to mix low-cost options like commercial or even consumer-grade broadband internet links with higher-cost options like MPLS, or to replace a traditional MPLS WAN with internet alone.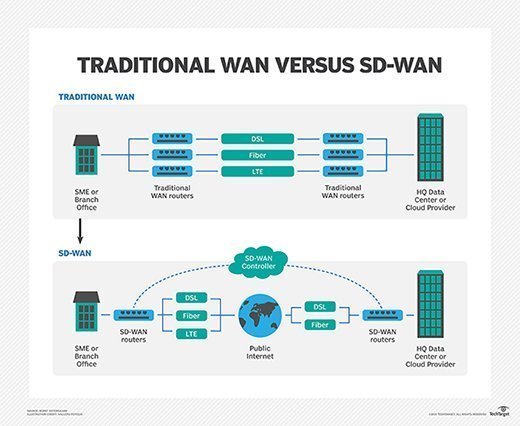 The transformational potential of SD-WAN is not enough. IT has to build a compelling SD-WAN business case for making the transition. The basis for the business case almost always has to be cost -- both hard-dollar costs for things like MPLS services, or lost sales during a network outage, and soft-dollar costs for situations like lost productivity during outages.
Based on Nemertes Research's SD-WAN cost model, SD-WAN deployments can easily cut millions of dollars from current and future bills for large WANs. For example, one benchmarked organization was able to reduce its planned WAN spending dramatically by shifting to internet connectivity to meet the needs of the new unified communications and cloud-based applications they were beginning to deploy. By 2019, the organization will spend $4.9 million less per year with SD-WAN than projected spending by sticking with MPLS only.
Other SD-WAN business case drivers
IT has to build a compelling SD-WAN business case for making the transition.
Connectivity is not the only avenue to build an SD-WAN business case and drive savings. By providing cheaper redundancy and more transparent and automatic failover when WAN links fail, SD-WAN can reduce branch WAN outages by 95%, according to early adopters interviewed for Nemertes' 2016-17 Cloud and Network Benchmark. That translated to a 92% reduction in WAN staff troubleshooting costs. Participants could not quantify the savings from productivity not lost to outages. They did, however, confidently state that although their sites still had link problems -- ranging from unexplained high-packet loss and brownout periods of extremely poor performance to outright loss of service -- their users were not aware of these problems because work was not disrupted.
Lastly, it's important to track another soft-cost SD-WAN improvement: business agility. For WANs, this aspect boils down to branch lead time, or to the length of time it takes to light up a new network site. IT can often provision wired internet service in a week or wireless Long Term Evolution in a day. Contrast that time frame with the weeks or months it takes to provision a new site with MPLS. With business agility on many minds, this is no small improvement.
It's time to re-evaluate your WAN
For IT and networking professionals, the message is clear: It's time to re-examine WAN architectures. With both current and future needs in mind, identify which locations could benefit most from higher bandwidth, lower rates, increased reliability or all three. Model the cost of sticking with the current architecture and achieving those improvements, and compare that against SD-WAN costs.
If the SD-WAN numbers show significant potential savings over time, build a business case around them. But don't forget to highlight the other operational savings and benefits. If there is an explicit corporate strategy built around a nimbler branch strategy, someone has probably assigned a dollar value to each day shaved off branch lead time. IT should lean heavily on that work in building an SD-WAN business case.
Next Steps
The enterprise can benefit from SD-WAN
Five SD-WAN questions answered
Estimate the ROI for SD-WAN deployment
This was last published in
June 2017