S/4HANA migration concerns lead SAP 2019 stories so far
Industry observers believe that if SAP is to remain competitive, S/4HANA migrations need to pick up, and new leadership needs to convince customers of the intelligent enterprise's value.
S/4HANA migrations and the SAP executive shakeup were two of the top SAP stories in the half of 2019.
Both issues drew a lot of attention, and experts believe how the company handles both situations is key to the company's success going forward. The state of S/4HANA migrations remains a major concern for SAP, and the executives are expected to lead that initiative as well as push SAP's efforts to show the value of what SAP calls the "intelligent enterprise."
In addition to the executive reorganization, SAP laid off around 4,400 employees, a move that may signal a more intensive focus on cloud development strategies rather than traditional HANA database development.
But it's the slow pace of S/4HANA migrations that remains one of the company's biggest concerns, according to some observers. S/4HANA is the backbone to SAP's intelligent enterprise, essentially a radical digital transformation of business processes and operations. Customers to SAP aren't the issue; instead, SAP's challenge is making the S/4HANA case to established customers.
S/4HANA migration pace still slow
S/4HANA numbers continue to improve, particularly from customers, but growth is not happening as quickly as the company needs, according to Joshua Greenbaum, founder and principal at Enterprise Applications Consulting. The company should set customer expectations much more realistically for the large installed base that remain on the legacy SAP ECC system.
"There's still a need to execute on that intelligent enterprise strategy, particularly for selling S/4HANA into the installed base, which is a tough sell because the connection between S/4HANA and business value outside the office of the CIO is still not very well established," Greenbaum said.
SAP customers are interested in the technical advancements that S/4HANA provides, but they are cautious about how they are moving into it, according to Eric Kimberling, founder and CEO of Third Stage Consulting Group, a Denver-based firm that works with organizations on projects like ERP implementations and migrations.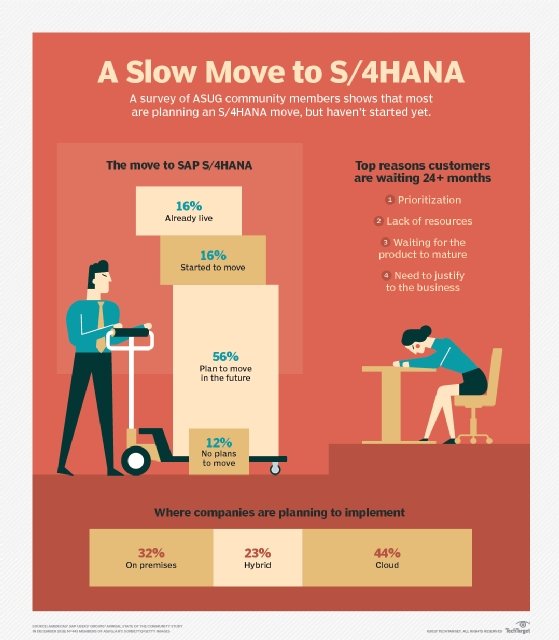 Companies that appear to be most enthusiastic about implementing S/4HANA aren't existing SAP customers, but those that have an existing ERP system that needs to be replaced.
"They've got some old legacy system and were going to implement something anyway, so now they're diving straight into S/4HANA," Kimberling said.
However, they may overestimate the benefits they receive from implementing S/4HANA and underestimate the cost and complexity of the project.
"I see those as riskier projects, because they don't understand what they're about to do, whereas the legacy SAP customers understand because they went through an implementation 15 years ago. They know it's a pain and won't be as easy as everyone tells them," he said. "But you see other customers making a big jump from some AS400-based system to S/4HANA, and then they do it really quickly in two or three years. Those are the ones that have red flags all over them."
SAP shakes up the executive suite
While SAP attempts to speed up S/4HANA migration momentum, the company must now do it with a transformed leadership team. The few months of 2019 saw a major shakeup of the SAP board and executive roster. Long-time SAP veterans left the company, including Robert Enslin, president of the cloud business group; Bjorn Goerke, CTO and president of SAP Cloud platform; and Bernd Leukert, co-leader of SAP digital services. They were replaced by SAP veterans, including Jennifer Morgan, who took over Enslin's role leading the cloud business group after running SAP global customer operations group for several years.
The shake-up raises questions. Much of the new SAP leadership has a deep sales rather than technology background, but it's too early to tell if this will have an effect on SAP's products, according to analyst Jon Reed, co-founder of Diginomica, a technology analysis firm that focuses on ERP.
"It's important to watch how Jennifer Morgan does running the cloud portfolio, as this is a big opportunity for her to show what she can do on the product side," Reed said. "I am personally wondering who the next major tech leader inside of SAP will be, and this is not a great time for SAP to be facing that question with so much change afoot on the technical side of the enterprise, from cloud platforms to open source, DevOps and microservices."
SAP needs to show value of intelligent enterprise
However, the organizational changes are pretty much standard operating procedure for a large enterprise like SAP, Greenbaum said.
"As with any large company, there's a lot of work to be done normalizing that change and reorganizing underneath that top level, and some of the trickle down is still taking place," he said. "But, in general, this is something SAP and every other large company does all the time."
But the reorganization comes at a crucial time for SAP. Greenbaum believes the company needs to integrate various parts of the portfolio, such as S/4HANA Finance and SuccessFactors, SAP's cloud HR platform, or it risks losing customers to non-traditional ERP players.
"That's a big sticking point because Workday is out there pushing an HR financial solution in the cloud and SAP has to have something to counter it," he explained. "This is an example of what was already in the priority list, but there's a sense now that they really need to double down on it."
Greenbaum is not concerned that new leaders, including Morgan, came from sales or customer-centric groups rather than technology groups.
"[Morgan] has been talking to customers at a very high level and a very intense level for a long time, and no technology succeeds if it doesn't serve the needs of the customers," he said. "You can have all the best engineers in the world, but if you can't connect to customers, nothing happens. So just because Morgan didn't come out of the engineering organization doesn't mean that she can't help them do a better job."
Indeed, SAP needs to do a much better job of explaining its vision of the intelligent enterprise and how customers can get started working on it, Reed said. Customers need quick, affordable and effective ways to move toward the intelligent enterprise model as SAP envisions it -- a reshaping of the enterprise that goes beyond back-office systems that form SAP's traditional core.
"SAP's sprawling cloud portfolio covers lots of functionality, but I'm not sure that S/4HANA and the cloud products are greater than the sum of their parts," he said. "When and if they become that, it changes things for SAP in a good way. But until that happens, they face stiff competition from best-of-breed cloud players, as well as other larger ERP players who also have enough cloud functionality to get on a short list and perhaps beat out SAP, depending on the industry and customer needs."