Unified
Communications
Compare Top Video Conferencing Tools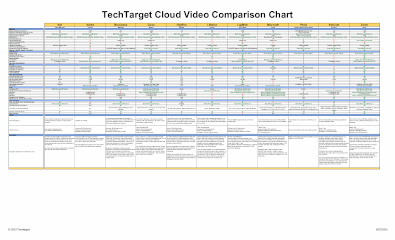 In the past, enterprise video use focused on devices, and room-based systems. In light of the current pandemic, cloud services are now at the center, focusing on consumer laptops, webcams, and headsets rather than dedicated hardware services. So now more than ever, you need to know which tool is right for your organization.
Explore the top video conferencing tools, including:
8x8
Cisco
LogMeIn
Microsoft
Pexip
Zoom
And 5 more
Editor's note: The information in the downloadable form was provided by the representatives of each vendor. TechTarget reviewed the responses for completeness and clarity but has not independently verified every vendor claim in the chart.
Learn how these tools stack up against each other in these categories:
Meetings
Collaboration
Security
Webinars/streaming
Chat
Room software
Pricing
Encryption