Fotolia
UCaaS key to hybrid workplace technology when offices reopen
As companies begin to ask their employees to return to the office for at least part of the time, a suitable hybrid workplace technology foundation is critical.
Remote work may now be ubiquitous, but that doesn't mean its dominance will last forever. Metrigy's recently released study of more than 470 organizations, "Workplace Collaboration: 2021-22," found that as of January 2021, 87% of employees in participating organizations now work remotely -- up from 34% before the COVID-19 pandemic began.
Those policies are now shifting. Indeed, 21.4% of study participants said they plan to require employees to return to the office at least part time once it is safe to do so, and another 36.4% will allow their staff to choose their work location. The likelihood of at least part of the workforce being in the office at any given time means that organizations must plan for a hybrid workplace technology future, one in which employees must effectively be able to communicate and collaborate, internally and externally.
Unified communications as a service (UCaaS) has rapidly emerged as a foundational technology for ensuring hybrid work success. Almost half of participants in the study have now adopted it to replace, or to augment, their on-premises or hosted calling platforms. Of those still on premises fully, a quarter plan to move to UCaaS by the end of 2021.
Bundling services for economy
The primary driver for UCaaS adoption is the ability of most UCaaS providers to offer services that bundle calling with video-enabled meetings, team collaboration and, in many cases, contact centers. Of those currently using UCaaS, more than 68% bundle meeting applications into their license and nearly 60% include team collaboration capabilities that enable contextual persistent messaging, and both workflow and application integration.
Successfully adopting UCaaS for the hybrid office requires ensuring adequate network performance and high-quality user experiences.
Beyond application integration, UCaaS as a hybrid workplace technology supports the needs of the hybrid worker in a variety of additional ways, including the following:
direct connectivity from home via the internet, eliminating the delays in backhauling voice and video traffic across a VPN onto the corporate network;
APIs and communications platform as a service (CPaaS) features that allow for embedding calling, meeting and messaging features directly into other applications;
security and management capabilities that enable IT managers to gain insight into voice and performance for remote workers;
rapid access to emerging features only available via the cloud, including AI-powered audio and video enhancements such as noise cancellation and virtual backgrounds, as well as virtual meeting assistants to capture meeting transcripts, notes and action items, and to translate these documents into multiple languages; and
webinar capabilities, either for internal or external use, to support broadcast-style events including recording and capture for future playback.
UCaaS typically also offers a reduction in staffing and licensing costs compared to administering these capabilities on premises, especially after the first year.
The below chart shows UCaaS adoption drivers cited by research participants.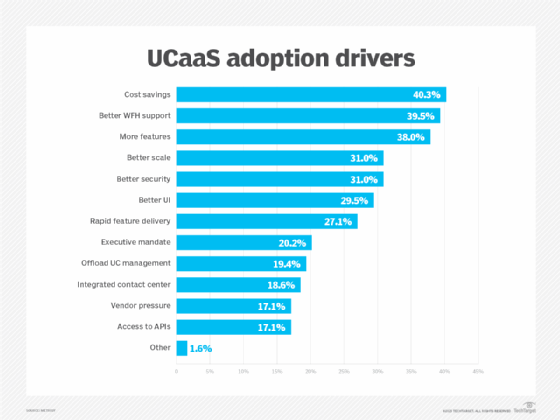 Successfully adopting UCaaS for the hybrid office requires ensuring adequate network performance and high-quality user experiences. Successful companies are more likely to provision a wide variety of endpoints -- including headsets, speakerphones, webcams and all-in-one desktop systems -- to take advantage of new hardware-based capabilities that encompass backlight compensation and noise cancellation. They are also more likely to extend performance monitoring capabilities into the home or take advantage of features offered by UCaaS providers to ensure that IT can quickly identify, troubleshoot and remediate voice, video quality or connectivity problems before they occur, or to resolve them afterward as quickly as possible.
The reality going forward is that the concept of office-based work will not return to what it was before the pandemic, nor will the age of near-universal work from home likely continue. Instead, a large percentage of the workforce is likely to split time between the office and home. This will require companies to maintain a proactive hybrid workplace technology strategy that not only delivers features like integrated calling, meetings and team collaboration, but provides IT with the tools to ensure high-quality experiences. UCaaS, thanks to its ability to offer bundled options and rapidly emerging features optimized for the cloud, will remain a key component for companies planning their hybrid futures.