Evaluate
Weigh the pros and cons of technologies, products and projects you are considering.
Eight influential Microsoft experts to follow on Twitter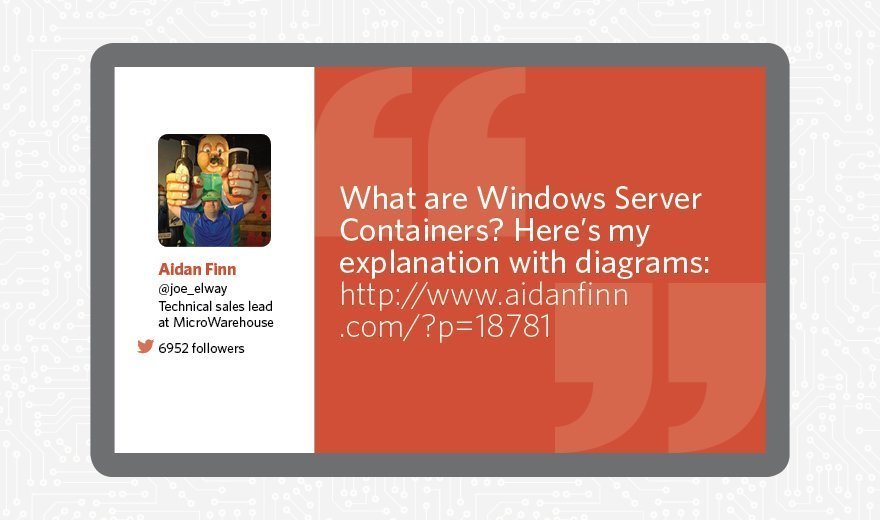 Source:
Twitter, Anita Koury
Cutting through the noise on Twitter to find useful information isn't always easy. Windows Server admins can look to @joe_elway for some valuable nuggets on Azure, Hyper-V, System Center and hybrid cloud integration.
The @joe_elway feed, run by Hyper-V MVP Aidan Finn, offers both useful information and opinions on the good, bad and ugly of various technologies. "Sometimes you get these folks who are pumping their company but don't necessarily give a realistic view into the technology," said Eric Beehler, co-owner of Consortio Services and a TechTarget contributor. Finn, who tweets at least twice a day, mixes humor with tech advice and some personal tidbits for his nearly 7,000 Twitter followers to grab onto.
To dive deeper into subjects like such as Azure and Azure Stack -- Finn mentioned getting some hardware for Microsoft's new software component, so watch for details on that sometime soon -- Windows pros and system admins can also turn to his blog. Finn works as a technical pre-sales lead for a tech distributor in Dublin, focusing on Azure, Windows Server and Hyper-V. He's also spoken at events throughout the U.S. and Europe, including Microsoft Ignite and TechEd Europe.
View All Photo Stories