Hop on board an Express Migration for Exchange Online
Exchange administrators dread a slow, complicated move to Office 365. The Express Migration option simplifies the shift with a single dashboard.
Exchange administrators have more important things to worry about than migration tools. A complex project -- such...
Continue Reading This Article
Enjoy this article as well as all of our content, including E-Guides, news, tips and more.
as a migration from Exchange 2010 or higher to Office 365 -- takes more time and thought than a busy admin can afford.
Microsoft's Express Migration option, available for Exchange 2010 or higher organizations, lets admins move mailboxes to Exchange Online and Office 365 quickly and without expert knowledge of tools. A typical Exchange Online migration, even a small one, requires a choice. Some admins want new features, such as automatic client reconfiguration, retention of offline caches and password synchronization; other businesses simply want to give end users new passwords and reconfigure every client.
Without Express Migration, administrators who want a high-fidelity migration with those advanced features must understand how to set up Azure AD Connect and configure a full Exchange hybrid setup. They also need to learn Exchange admin center functionality so they can manage mailbox migrations.
The Express Migration route automates the setup of these features, such as automatic client reconfiguration, and provides a single dashboard within the main Office 365 portal to manage the migration. Admins avoid the work that comes with a hybrid migration and get users onto Office 365 faster. The hybrid configuration offers several administrative benefits, including automatic client reconfiguration, retention of offline caches and one-time password synchronization -- none of which are possible with the alternative cutover migration.
Assess the environment before the Express Migration
For the purpose of this article, we will move Goodman Industries, a fictitious, small manufacturing company that employs 40 people, to Office 365. The business has a Windows Server 2012 R2 domain controller and two Exchange 2010 servers -- one runs the client access and hub transport role and the other runs the mailbox role.
The company uses Office 2013 installed via a Windows Installer package (.msi file), which is patched and up-to-date. Clients have direct connectivity and access to all internet locations, including Office 365. They also have 100 Mbps bandwidth with low utilization.
Exchange is set up correctly, and autodiscover is working; the environment has valid external Secure Sockets Layer certificates. The client access server role publishes to the internet with a direct firewall rule that allows HTTPS traffic. The hub transport role sends and receives mail via the internet.
Goodman Industries has a new Office 365 subscription that it doesn't use yet, but it has purchased licenses for users. In addition, Goodman Industries doesn't want to rely on any on-premises infrastructure to support Office 365, which eliminates long-term directory synchronization. However, it wants to synchronize accounts before they migrate and wants to ensure a quick and simple client switchover.
Prep the Office 365 environment
Goodman Industries is typical of many small businesses. It has no heavy restrictions on its internet connection and uses a simple Exchange Server configuration to minimize complexity. To prep the Office 365 environment in such a scenario, go through the validation process and ensure the bandwidth and firewall configurations are suitable for a full adoption of Office 365 services. For the purposes of this article, assume the company meets all requirements.
However, there are key areas to check and configure. Within the new Office 365 tenant, add custom domains for each email domain in use. Log into the Office 365 portal, and select Setup > Domains in the administration center. The wizard will ask to add records after it adds the TXT record; choose Skip. Once domains are configured, they should be listed within the portal, as shown in Figure 1.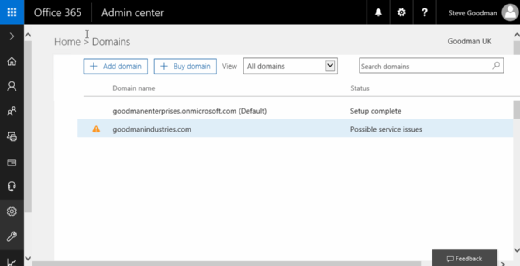 Resolve any errors with invalid Active Directory user data. To do this, update the user principal name attribute in Active Directory so it matches end users' email addresses and remove duplicate addresses, as shown in Figure 2. This ensures the administrator can make a copy of user accounts in Office 365. Use Microsoft's IdFix tool to find and fix accounts with errors.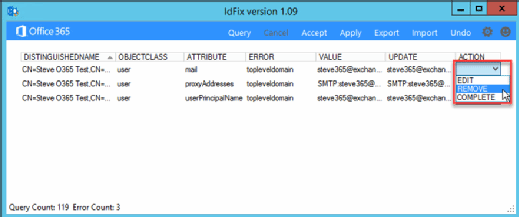 Use the Hybrid Configuration wizard
To begin the Express Migration, go to the data migration page in the Office 365 admin portal from a domain-joined Windows computer. This installs the AD synchronization tool set, so it might make sense to run this from an Exchange Server or Active Directory domain controller.
Once logged in, select Users > Data Migration to select the type of data source to migrate. For this scenario, choose Exchange (Figure 3).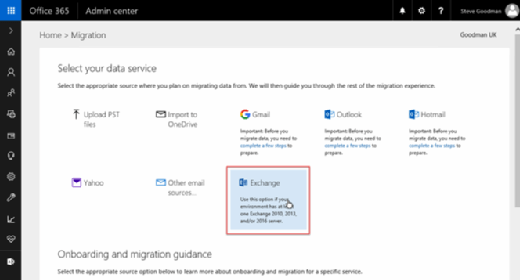 Office 365 asks if you want to run the Office 365 Hybrid Configuration wizard, which performs the Express Migration configuration. Choose Download Application to launch the wizard. Select the Exchange Server to use. In this case, select the Exchange 2010 client access and hub transport server. Enter the credentials to connect to the Exchange Server and Office 365 and then select the type of hybrid configuration.
For the wizard to create necessary Office 365 settings and migrate mailboxes, unselect the Use current Windows credentials option and manually enter credentials. When the wizard asks which hybrid features to use, select Minimal Hybrid Configuration (Figure 4).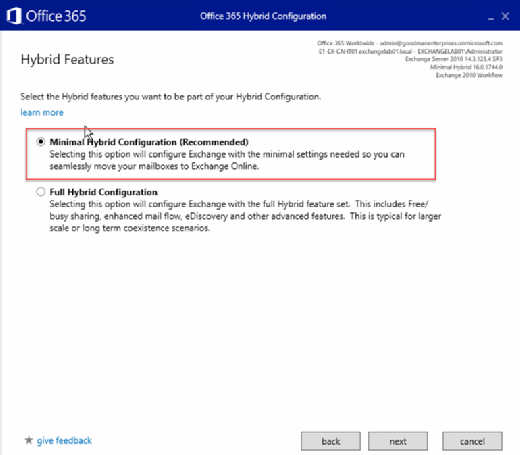 On the next page, select the Update button to configure the basic features in both Exchange Server 2010 and Office 365 and to assist the mailbox migration. On the next page, select the option to Synchronize my users and passwords one time, as shown in Figure 5, and follow the prompts to install Azure AD Connect and perform the synchronization.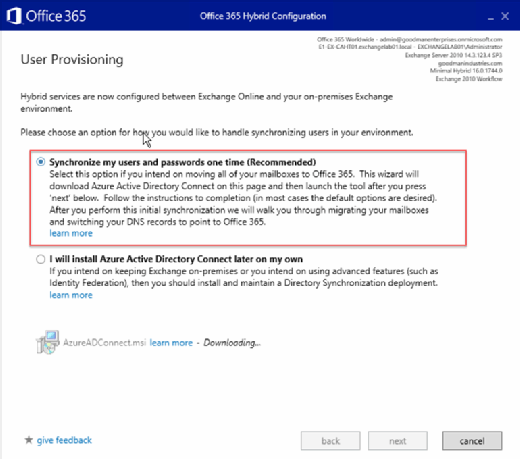 This completes the Office 365 hybrid configuration wizard portion. Next, a prompt gives the option to visit the Data migration page. To select the page manual, navigate to Users > Data migration and select Exchange.
The Data migration page should show user accounts in the Office 365 tenant. Select a few test users, assign a license if necessary and then click Start migration to ensure the migration works properly (Figure 6).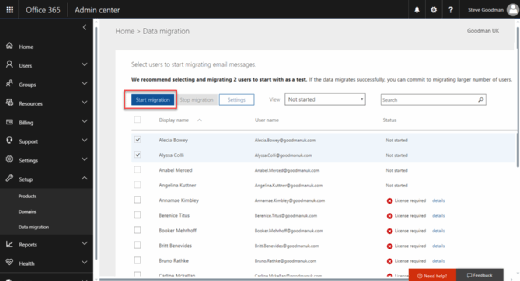 Exchange Online will simultaneously connect to the on-premises Exchange Server, via HTTPS, to the client access server. It then will attempt to natively migrate selected mailboxes. Refresh the page for progress updates, as shown in Figure 7.

Once mailbox migration completes, the status will change to Completed. At this point, the on-premises mailboxes convert into Remote Mailboxes. The next time a client launches Outlook 2013, the autodiscover process reads the Remote Mailbox user objects and redirects the connection to the mailbox in Office 365. Outlook will ask for the end user's password, and then it will receive email messages.
When the rest of the users are migrated, uninstall Azure AD Connect from the Windows machine that ran the hybrid configuration wizard. The organization can then decide if it wants to remove Exchange Server from the environment.
Next Steps
Hybrid wizard configures deployment
Prepare for an Office 365 migration
Make an Office 365 migration pay off
Dig Deeper on Exchange Online administration and implementation