Definition
computer hardware chart
This handy computer hardware quick look-up was designed by Sonic84. He created the chart to assist his customers at CompUSA by taking photographs of desktop RAM, notebook RAM, hard drives, ports, processor slots and sockets, peripheral cards, desktop card slots, power connectors and CPU sockets. He has graciously granted us permission to repost his illustrated cheatsheet.
Click the image to enlarge.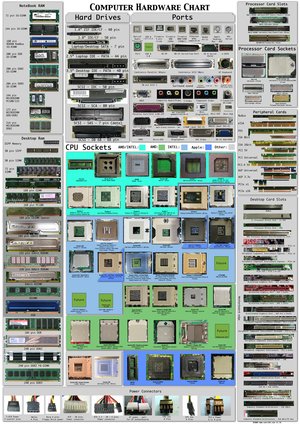 Today, Sonic84 works in a computer repair shop. He is still working on the chart and is seeking high resolution images for PAC611, Socket 4, Socket NextGen and Socket 499. Email us if you can provide them.
This was last updated in
July 2009