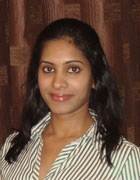 Archana Venkatraman
Datacentre Editor -
TechTarget -
Archana Venkatraman is the Datacentre Editor for Computer Weekly. Prior to joining TechTarget, she has worked as a reporter on Information World Review. Archana has over four years of reporting experience on a range of IT and marketing publications in the UK and in India. She holds a BA in English literature and a Masters degree in journalism from Mumbai University.
As the site editor, Archana is responsible for all the content on the site. She works with expert contributors in the UK to produce a range of strategic articles around data centres, server virtualisation, disaster recovery, cloud computing, and green IT among others.
@TheDanRobinson hi Dan, I'm joining IDC... Will miss CW and journalism!
1:25 PM - 21 Nov 14
Archana Venkatraman's Most Recent Content