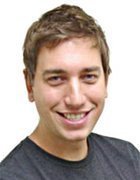 Brian Madden
Desktop virtualization expert and blogger -
TechTarget -
Brian Madden is known throughout the world as an opinionated, supertechnical, fiercely independent desktop virtualization expert. He has written several books and over 1,000 articles about desktop and application virtualization. Madden's blog, BrianMadden.com, receives millions of visitors per year and is a leading source for conversation, debate and discourse about the application and desktop virtualization industry. He is also the creator of BriForum, the premier independent application delivery technical conference.
Follow him on Twitter @BrianMadden.
RT @EUCBorat: 2016 Predictions: #5 @brianmadden joins a vendor as Chief EUC Evangelist. Works 2 days a week and travels business class to every event!
1:25 PM - 25 Nov 15
Brian Madden's Most Recent Content