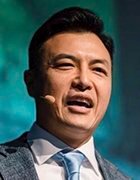 Scott Amyx
CEO -
Amyx McKinsey -
Scott Amyx was voted one of the Top 10 Global Speakers by Speaking.com. Scott is a thought leader, speaker and author on wearables and the Internet of Things, and the Managing Partner at Venture1st and CEO of Amyx+McKinsey. He has been nominated by the Republic of Korea to represent cutting-edge research and case studies on wearables and the Internet of Things at the ITU Telecom World 2015 in Budapest. He will debut the concept of "The Digital Currency of Happiness" at TEDx. Intel & TBS's America's Greatest Makers look to Scott to recommend the most promising startups.
Scott has been featured on New York Times, TIME, Forbes, Wired, Chicago Tribune, InformationWeek, Gigaom, ReadWrite, Forrester, Shots Magazine, Business News Daily, IBM Big Data & Analytics, Intel, TechTarget, Geektime, Examiner, TechBeacon, EE Times, IEEE, El País, Costco Magazine, and numerous global publications and radio programs. He has spoken or scheduled to speak at TEDx, World Economic Forum, International CES, Internet of Things World, IoT Asia, ITU Telecom World, Smart IoT London, Internet of Things Security, Wearable Technologies Conference, IBM Insight, IBM Amplify, IBM Watson IoT, Internet Summit, Global Big Data, JCK Las Vegas, Customer Service Experience, IN3 Medical Device 360 Summit, Razorfish Tech Summit, Location & Context World, Wearables TechCon, K-Global Startup, and more. Scott is the co-author of The Internet of Things and Cyber-Physical Systems Handbook, an academic publication by John Wiley and Sons and The Advances in Information Security, Privacy, & Ethics (AISPE) Book Series, an academic publication by IGI Global, scheduled for 2016.
Scott has over 18 years of large-scale strategy and implementation experience, managing double digit million dollar projects across multiple verticals. In his last corporate position as VP of Product Management, Scott helped the company be acquired by a Fortune 500 publicly traded company. Scott has also started numerous startups and successfully sold a company.
Scott has a master's degree in applied microeconomics/public policy from the University of Chicago. Scott was a national Sloan Fellow at Carnegie Mellon University.
Scott Amyx's Most Recent Content