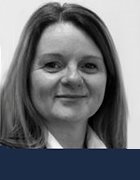 Maxine Holt is a principal analyst at the Information Security Forum (ISF) and is responsible for delivering client-facing projects.
Since joining in 2015, her focus has been a large research project on "Protecting the Crown Jewels" and developing a briefing paper on "Using collaboration platforms securely".
Maxine's areas of expertise include human capital management, identity and access management, business process management and customer relationship management.
Prior to joining ISF, Maxine was the director of research and analysis for the global Ovum Software practice, leading the development and delivery of the research agenda for Ovum clients and representing the practice to the global business community.
Throughout her 15-year career at Ovum, Maxine was responsible for researching and writing independent research to support the needs of Ovum clients, and developing Ovum events in line with the research.
Maxine started her career as a software developer in the financial services industry, gradually progressing into a systems analyst role and then moving into consultancy for financial services and the internet sectors.
Maxine is a regular speaker at ISF and external events, and writes the ISF monthly Computer Weekly article covering various aspects of information security.
She is the author of numerous articles, including: "Employee engagement is driving need for investment in human capital management" (Ovum 2015), "Don't lose sight of the softer side of cyber security" (Ovum 2014), and "Ovum decision matrix: Selecting a business process management solution" (Ovum 2014).
Maxine Holt's Most Recent Content