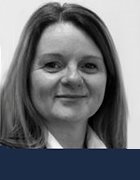 Maxine Holt is research director at Ovum. She leads Ovum's security business, developing a comprehensive research program in this area to support supplier, service provider and enterprise clients. Having worked with enterprises across multiple industries in the world of information security, Maxine has a strong understanding of the challenges faced and how organisations can look to overcome these challenges.
Maxine rejoined Ovum in 2018, having spent over two years at the Information Security Forum (ISF) developing research in areas including Protecting the Crown Jewels and Securing Collaboration Platforms.
Prior to the ISF, Maxine spent 15 years at Ovum covering topics including security, human capital management, and identity and access management. She has a particular interest in how all the component parts of security combine to make up an organisation's security posture.
Starting her career as a software developer in the financial services industry, Maxine progressed into a systems analyst role and then moved into consulting for the financial services and internet sectors. Maxine is a regular speaker at events and provides industry commentary to the media.
Maxine Holt's Most Recent Content