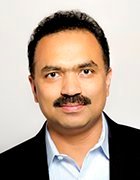 Ashok Nare
Founder & CEO -
Kollabio, Inc. -
Ashok Nare is the founder and CEO at Kollabio, Inc., a digital transformation firm that offers products and solutions to help organizations transform themselves into 21st century digital organizations and offer unique digital experiences to their customers.
Mr. Nare has over 20 years of hands-on, leadership and executive experience in enterprise software development, technical leadership, organizational transformation and business operations.
Prior to starting Kollabio, he served as a CTO at multiple startups where he was responsible for technical leadership, building high-performance technical teams, new product development and establishing technology strategy/vision. His areas of expertise are digital strategy and transformation, solution architecture, cloud computing, new product development and agile software delivery.
He is an avid promoter of IoT, AI and digital health technologies and is a frequent speaker at health and technology conferences, including mHealth Summit 2015, Health Slam 2016, Smart Cities Symposium 2017, Heart and Stroke Innovation Forum 2017, IoT Slam 2017 and IoT Evolution 2017.