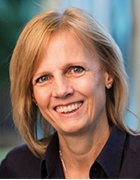 Bodil Josefsson has been with Ericsson since 1991, and has broad experience from various parts of the company including product management, sales and marketing.
As head of IoT security, Bodil is responsible for the overall IoT security strategy, including both product security and security offerings for the IoT portfolio.
Prior to joining the IoT area, Bodil was driving the cloud marketing program within Ericsson. Bodil was also instrumental in aligning security initiatives across Ericsson.
Between 2005 and 2010, Bodil was stationed abroad, first in Portugal and later in South Africa as key account manager for accounts in several African countries.
Before Ericsson, Bodil worked at the Swedish operator Telia and at the Swedish embassy in Paris.
Bodil holds a Master of Science degree in industrial engineering and management from Linköping Institute of Technology, Sweden.
She lives with her husband in Stockholm and has two daughters.
Bodil Josefsson's Most Recent Content