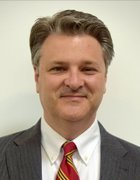 Brench Boden
Digital Manufacturing and Design Innovation Institute -
Brench Boden is Chief Technology Officer for the Digital Manufacturing and Design Innovation Institute, a UI LABS collaboration that is working to transform American manufacturing through the digitization of the supply chain.
Boden is also the lead for the advanced manufacturing enterprise technical area in the Air Force Manufacturing Technology Program. His responsibilities include strategic planning, technology roadmapping and program development across a diverse technical spectrum that includes information integration tools and standards, modeling and simulation, factory automation, design analysis tools and supply chain management.
Boden has been in the Department of Defense manufacturing technology community since 1990, during which time he has developed numerous award-winning programs in acquisition reform, implementation of lean production, tools for integration technology and supply chain management.
Brench Boden's Most Recent Content