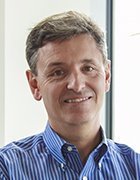 Davide Vigano
CEO and Co-founder -
Sensoria Inc. -
Davide Vigano is co-founder and CEO of Sensoria Inc., a world leader in wearable fitness and smart garment technology. Sensoria's proprietary textile sensors, microelectronics and artificial intelligence powered software enable Sensoria smart garments to convert data into actionable information for health and fitness users in real time.
With a resume that spans more than 25 years with experience in sales, marketing and product management, Davide views himself as more of an impassioned builder than the CEO of a leading tech wearable company. He loves collaborating with intelligent and talented individuals to achieve even the most challenging goals. Recently, Sensoria debuted the future of ultralight-weight and comfortable wearable devices with its removable Sensoria CORE technology. This innovative, non-mission-specific component connects to wearable devices, such as Sensoria's new VIVOEBAREFOOT smart shoe, to provide real-time feedback to users.
Previously, Davide served as general manager of the Health Solutions Group at Mac Works, Mac Office, and acted as VP of the Worldwide SMSP Medium Business division, which he grew to more than $14 billion. Additionally, Davide brought the Italian Microsoft Business and Enterprise operations to number one in the world for contribution margin, reaching $1 billion in revenues and 6th largest subsidiary overall.