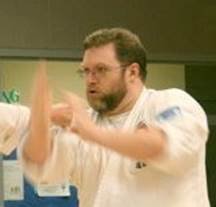 Devin Ganger
Messaging architect -
Devin L. Ganger is a father, husband, reader, writer, Xbox gamer, college dropout, karate student, music lover, seeker of balance, reveler in life and follower of the uplifting. Ganger got into computers as a child and his interest in networking came out of my involvement with the dial-up BBS community during the late '80s and early '90s.
Ganger is a messaging architect and technical writer with over 15 years of experience in administering messaging systems, Windows, UNIX, and TCP/IP networks. Today, he works primarily with Exchange Server, Windows Active Directory and related Microsoft and third-party technologies. Ganger was recognized as a Microsoft MVP for Exchange Server from 2007 to 2011. He also earned the Microsoft Certified Master Exchange 2007.
"My goal is to continue to develop my expertise in Exchange by helping solve real problems in real messaging systems, while staying engaged with learning new technologies and sharing what I learn with the greater Exchange community. I see IT work as a calling to help people solve problems and empower them to better lives. I still get that first-time touch of glee every time I get a new system connected to a network, or sending and receiving its first messages."
Devin Ganger's Most Recent Content