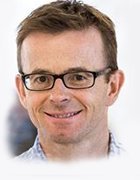 Donal Carville is the founder of Circadian Capital and a member of the HutZero programme.
He comes to cyber security via a Master's in engineering from Oxford as well as a stint in the City, where he gathered nearly 20 years' experience building and running businesses on both the trading floor and on advisory side of the business.
He is a self-declared dataphile, and that love of collecting, measuring, analysing and pattern-matching brought him back to code. Witnessing the pace of credential theft, he began tinkering with authentication systems, and Donal's company, Circadian, recently won an R&D grant to further develop Quill, a behavioural recognition service.
Donal Carville's Most Recent Content