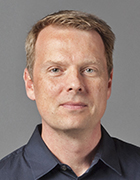 Eric is an accomplished designer with an instinct for developing iconic, industry-leading product solutions in diverse markets and across multiple media. His corporate and consulting experience has provided the skills to navigate corporations and manufacturers to deliver disruptive yet commercially viable solutions.
Eric enjoys expanding what people think is possible, connecting ideas and leading multidisciplinary teams on complex projects. He is a great storyteller with a deep understanding of how design adds value to people's lives and to clients' businesses.
Eric holds an MFA in industrial design from Cranbrook Academy of Art and a BS in studio art and art history from Skidmore College.
Eric Bogner's Most Recent Content