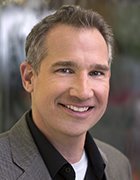 Erik K. Perotti
Group Lead, Innovation & New Ventures -
Plantronics -
Erik Perotti's core mission is the ongoing analysis and evolution of online user engagement, resulting in end-user interface experiences that are intuitive, engaging and purposeful. Perotti's background includes 20 years of dedicated work developing user interfaces, prototypes and web interactions.
Erik is profoundly interested in the evolution of the internet as a communications platform. His current focus includes the investigation and assessment of the wearable device space and how to best harness the IoT, wearables, and web behavior or a combination of all three, to enrich people's lives.
Perotti holds a Master's Degree in Human Computer Interaction from Carnegie Mellon University in Pittsburgh and holds multiple patents in mobile and web interaction innovation. Prior to joining Plantronics, Erik held key roles addressing user experience management for several Silicon Valley-based enterprise software firms.