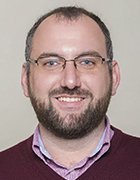 Javier Muñoz-Ferrara
Head of Software Development -
IOTSENS -
Javier Muñoz-Ferrara is the Head Software Developer at IOTSENS, a horizontal platform for the development of IoT solutions which provides functionalities to gather, integrate, store and analyze data.
In IOTSENS, Javier is in charge of defining the architecture of the IoT software platform and leading the development team. In his daily work, the team faces the challenges that arise when building an extensible and scalable system that must process huge amounts of data from heterogeneous sources for providing valuable functionality to the end-users so they can get the most of the IoT solutions.
Javier holds a PhD on Software Engineering from the Universidad Politécnica de Valencia and from his very beginnings in the industry has always been involved in innovative projects using the most advanced technologies. Before his current position, he led software developments teams working in Eclipse-based solutions and founded a startup focused on mobile applications development.
Javier Muñoz-Ferrara's Most Recent Content