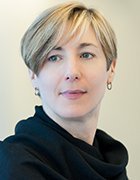 Michele Chubirka
IAM expert
Michele Chubirka, aka "Mrs. Y," writes, speaks and teaches on enterprise security architecture best practices with an emphasis on network security. She is also SearchSecurity's resident expert in identity and access management (IAM).
Chubirka has more than 15 years of information security experience, with an emphasis on the design, implementation and support of enterprise application and network security products, including the maintenance and administration of multiple vendor technologies.
She hosts a podcast called Healthy Paranoia, a security feed of Packetpushers. You can find her blogs and podcasts at http://www.healthyparanoia.net or http://packetpushers.net/author/securityprincess. She enjoys long walks in hubsites, traveling to security conferences and spending extended hours in the Bat Cave. Michele believes that every problem can be solved with a "for" loop.
Michele Chubirka's Most Recent Content