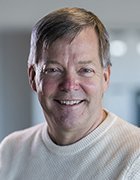 Patrick MeLampy, one of the co-founders of 128 Technology, has served as the company's chief operating officer and director since the company's inception.
With Andrew Ory, Patrick co-founded Acme Packet Inc. and served as its chief technology officer since August 2000. He served as vice president of engineering of Priority Call Management (PCM) since 1989. At PCM, Patrick developed and supported the company's network telecommunications products and grew the engineering team from two to 75 members.
He has developed intellectual property portfolios at PCM, LHS, PCM and Acme Packet. Patrick earned a B.S. degree in mechanical engineering from the University of Pittsburgh and an M.B.A. from Boston University.