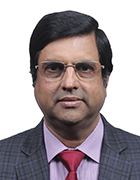 Regu Ayyaswamy
Global Head of Internet of Things, Tata Consultancy Services
Leading the internet of things business, Regu's role involves leveraging analytics and IoT technologies to enable disruptive innovation and operational excellence for customer organizations focused on becoming connected, competitive business 4.0 enterprises.
Regu draws on his extensive engineering and industrial services experience, along with his deep understanding of the industrial internet, to lend direction to a portfolio spanning several IoT layers, including devices and sensors, cloud, analytics, and applications and services.
Regu and his team help customer organizations take small, medium and large steps on their journey toward creating a modern, IoT-enabled ecosystem by building hyperconnected, smart products, services and solutions.
Regu Ayyaswamy's Most Recent Content