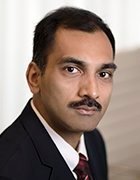 Shantanu Sarkar
Senior Vice President of Product Development -
Plantronics -
Shantanu Sarkar is senior vice president of product development at Plantronics. In this role, he provides strategic direction and drives the company's software, hardware, mechanical design and program management efforts.
Sarkar joined Plantronics in 2011 as vice president of software and firmware. Since that time, he has been promoted to his current position through a variety of roles with increasingly levels of seniority and responsibility including vice president of software, firmware and program management in 2013, and vice president of engineering in 2014.
Previous to Plantronics, Sarkar led the advanced technology, strategy and corporate development team at Polycom from Feb. to Aug 2011. Prior to Polycom, he spent 14 years at Cisco and was part of the original internal startup that ultimately became the $2 billion+ voice technology group. During his tenure at Cisco, he led engineering teams, strategy, worldwide UC standards engagement, M&A, advanced technology for collaboration and product development, and was named one of Cisco's best Executive Briefing Center (EBC) presenters.
Sarkar has a M.S. in computer science from The Ohio State University and a cachelor of science degree in computer science from the Indian Institute of Technology, Kharagpur. Additionally, he holds 100+ U.S. patents (granted and filed), plus others internationally.