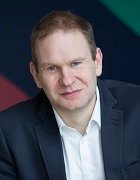 Simon McCalla is the CTO for Nominet, which is responsible for managing over 12 million .UK domains.
Through his work over the last nine years he has helped bring connectivity to the most remote parts of the UK, led the development of cyber security techniques and tools which are now being used to protect vital government digital services, and global businesses, all while ensuring 100% uptime of the .UK family of domain names.
McCalla led the Nominet team that found significant flaws in the internet infrastructure including the world's first internet 'kill switch'. He was instrumental in running the team behind the first Security, Stability and Resilience Review of the Global Internet for Icann and the US government, and is a fellow of the British Computer Society.
Simon McCalla's Most Recent Content