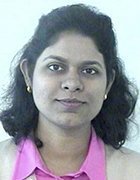 Sravani Bhattacharjee
The IOT Copywriter – B2B -
IrecaMedia -
Sravani Bhattacharjee is a former technical architect and the founder of IrecaMedia, a B2B copywriting venture exclusively focused on IoT and big data.
Having played multiple award-winning leadership roles in communications and data networking industry for 20+ years, Sravani is now laser focused to accelerate IoT adoption with compelling content and communications. Her rare synergy of hands-on technical knowhow and business communication expertise is highly effective to motivate engineering, marketing and buying decision makers to generate the desired business outcome.
Sravani is closely involved with the new wave of digital transformation and specializes in Internet of Things, data analytics, cloud and virtualization. She regularly speaks on technology and business dimensions at IoT conferences.
Sravani has a Master's degree in Electronics Engineering. She received advanced training in direct-response copywriting, specialized in B2B communications.
Travel, yoga and music keep her engaged while away from work.
Sravani Bhattacharjee's Most Recent Content