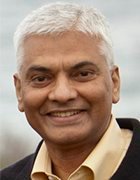 Subhash Chowdary is the founder and CEO of Aankhen Inc. He was the former Chief Architect at Apple Computer, USA, where he helped develop and publish the VITAL architecture, pioneering the concept of portals, data warehousing and "Web services." The architecture was the foundation for information access and delivery using personal digital assistants (PDAs) now ubiquitous as smart phones and tablets. Prior to working at Apple, Subhash has extensive multi-national manufacturing and integrated manufacturing systems development experience in multiple industries ranging from automotive to geothermal energy.
Recent accomplishments include innovative deployment of Internet of Things in logistics (IoTiL) and business models using devices, sensors, cloud and big data technologies to build digital networks. Solutions enable intelligent, secure, cost efficient e-commerce, homeland security, food supply chains and agriculture for global enterprises using IoT to unlock value not possible before.
Subhash is a graduate of IIT Madras and University of Texas.
Subhash Chowdary's Most Recent Content