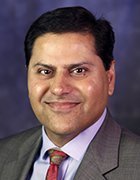 Tejas Vashi
Senior Director, Product Strategy & Marketing, [email protected] -
Cisco Services -
Tejas Vashi is an advocate for learning and its critical impact on business transformation. In his role as senior director of product strategy and marketing at [email protected], he is responsible for defining the education strategy, driving business innovation and establishing strategic industry partnerships.
A technology industry and Cisco veteran, he has seen firsthand the effect that technology can have in driving business growth and is considered a thought leader in learning as it applies to business transformation. He believes education is essential to activate new technologies and has devoted his career to redefining talent enablement for today's digitized world.
Prior to joining Cisco, Tejas gained broad experience in industry. He worked in design, testing and quality engineering capacities, directed manufacturing projects and led product marketing efforts. Throughout his career, he's demonstrated an entrepreneurial spirit and a passion for leading business growth and inspiring innovation. In his time at Cabletron Systems, a networking provider, he demonstrated this spirit by expanding the company's footprint into Asia-Pacific. At Cisco, he helped integrate optical technologies into high-speed data networks to create a new line of business for the company.
Tejas holds a Bachelor of Science in Electrical Engineering from Drexel University and a Master of Business Administration from Temple University in Philadelphia.