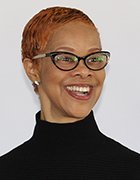 Yvette Steele has led CompTIA's workforce communities for three years. Working with a team of executive council members, she drives strategy and execution of diversity, equity and inclusion (DEI) initiatives.
She creates on-ramps to technology careers for under-represented groups, equipping them with the knowledge and skills needed to thrive in the tech industry while providing tools and resources in support of DEI policies and practices for enterprise organisations.
Yvette serves as liaison for ongoing workforce projects on behalf of CompTIA's Advancing Tech Talent and Diversity Community with the National Urban League, and is often called upon to collaborate on cross-functional workforce programmes, coordinating the efforts of internal and external teams.
Yvette has 30+ years' experience in the technology industry with Fortune 1000 organisations, government agencies, non-profits and small to mid-sized businesses, with responsibilities ranging from account and sales management to cyber security awareness training.
As diversity and inclusion lead, her people, analytical skills and expertise in programme and project management well positions her in setting short- and long-term strategy relating to diversifying the technology workforce.
Yvette graduated from Chicago State University with a B.S. in Business Administration, earned a D&I certificate from Cornell University and currently lives in Chicago with her husband and two daughters.
Yvette Steele's Most Recent Content