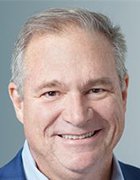 David Linthicum
Cloud analyst -
Cloud Technology Partners -
David (Dave) S. Linthicum is with Cloud Technology Partners and an internationally recognized cloud industry expert and thought leader. He is the author and co-author of 13 books on computing, including the best-selling "Enterprise Application Integration." Linthicum keynotes at many leading technology conferences on cloud computing, SOA, enterprise application integration and enterprise architecture.
His latest book is "Cloud Computing and SOA Convergence in Your Enterprise: a Step-by-Step Guide." His industry experience includes tenures as CTO and CEO of several successful software companies and upper-level management positions in Fortune 100 companies. In addition, he was an associate professor of computer science for eight years and continues to lecture at major technical colleges and universities, including the University of Virginia, Arizona State University and the University of Wisconsin.
Just kinda feeling grateful for the wonderful people I work with, both inside and outside of my company.
6:31 PM - 21 Oct 14
David's Most Recent Content