Edelweiss - Fotolia
Compare offline data migration services from AWS, Azure and Google
Sending a storage disk to a cloud provider seems like an antiquated data-migration method, but it's a common choice. Here's how AWS, Azure and Google manage the process.
Enterprises that need to move terabytes of data to the public cloud -- and don't have access to an inexpensive and fast network connection -- often use a more old-school approach: offline storage. This means organizations store data on a physical disk, and then ship that disk to their cloud provider, who loads the data onto the cloud.
However, before starting this process, enterprise IT teams need to carefully plan, budget and validate that their data can arrive safely and in good condition. Here's a look at various offline data migration services from Amazon Web Services (AWS), Google Cloud Platform and Microsoft Azure.
AWS
AWS' primary offline data migration services are Snowball and Snowmobile.
With Snowball, admins create a job in the AWS Management Console, and then AWS sends a physical disk, called a Snowball, to them. Users load the Snowball appliance with the data they want to migrate to the AWS public cloud. The data volumes are electronically labeled, so when the appliance arrives at AWS' facility, the vendor can load the data onto the cloud.
At time of this publication, AWS charges a service fee for each data transfer job with Snowball; a 50 terabyte (TB) Snowball appliance costs $200, and an 80 TB appliance costs $250.
For larger data-transfer needs, AWS offers Snowmobile, an exabyte-scale data transfer service that allows users to ship up to 100 petabytes of data to an AWS facility using a 45-foot shipping container that's pulled by a truck. AWS charges for the Snowmobile service based on the amount of data stored per month in the truck.
Microsoft Azure
Microsoft Azure provides a service similar to AWS Snowball, called Import/Export service, but doesn't provide users with the physical disks. Instead they must supply their own, and follow these requirements:
Use 2.5-inch solid-state drives (SSDs) or 2.5-inch or 3.5-inch SATA II or SATA III internal hard drives.
When copying data to the hard drive, attach it directly using a 2.5-inch SSD or 2.5-inch or 3.5-inch SATA II or SATA III connector, or attach it externally using an external 2.5-inch SSD or 2.5-inch or 3.5-inch SATA II or III USB adaptor.
Hard drives can be up to 10 TB.
For import jobs, Microsoft will only process the first data volume on the drive.
Users must format their data volume with the NT file system.
Microsoft, at time of this publication, charges an $80 fee for each storage device, and recommends users download the latest version of the WAImportExport tool. This tool copies your data volumes to the physical drives you purchase.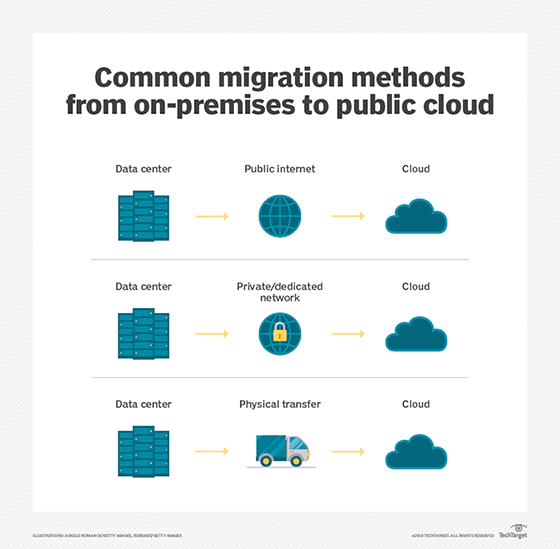 Google Cloud Platform
Google's Offline Media Import/Export involves a third-party vendor, but functions similar to the offline data migration services from AWS and Microsoft. In this case, enterprises send their storage appliance to a third-party service provider, who then uploads the data to Google's cloud.
Enterprises are required to make their own arrangements for Offline Media Import/Export with the third-party provider they select, rather than do so through Google. These providers include Iron Mountain for North America, and Prime Focus Technologies for Europe, the Middle East and Africa, as well as Asia Pacific regions.
General do's and don'ts for offline data migration
While offline data migration services to may seem like a one-time thing, many enterprises will go through the process dozens of times over the next few years. It pays to coach IT staff on the process and the technology; don't disregard the idea of creating a specialized team.
Second, consider security. Most cloud providers make customers encrypt data with technology such as BitVault, but it's also important to ensure that, if physical disks are lost in transit, enterprise data isn't exposed to a breach. Generate the data volumes on the physical disk, or other storage devices, you plan to ship using the specific procedures from your public cloud provider.
Finally, properly plan the project before using one of these data migration services. Fully understand what physical devices you need, when you need them, and the number of resources and staff required for each migration. A good plan reduces unexpected time and costs.
Next Steps
Five ways to reduce your cloud storage costs
Explore Google's lineup of cloud storage services
What to expect on your Azure Premium Storage bill