Are you on the right cloud computing career path?
As more advanced cloud technologies and deployment models emerge, it's important to future-proof your career. Check your resume against these expert suggestions.
The cloud job market constantly evolves as technologies ranging from serverless to AI, as well as multi-cloud, create new possibilities. To build a successful cloud computing career path, IT pros need to pay close attention to these trends and advances.
Individual vendors still hold some sway over cloud computing careers. For example, some professionals choose to work with a specific vendor and have one concentration, such as an AWS Certified Solutions Architect, or focus on a technology that is complementary to a particular cloud provider, as seen with security, integration and database specialists.
However, with the growing popularity of multi-cloud and other technologies, some professionals move from a pinpoint focus to a broader, more generalist view. These days, it's more about the breadth of skills rather than the depth.
Chart your cloud course
So, are you on the right cloud computing career path?
Cloud-related jobs evolve even faster than other tech positions. This presents an opportunity to make more money, because companies are eager to attract the right talent, especially as their needs change.
Because the cloud industry is constantly in flux, you should gain flexible skills that will give you an edge in both the short and long terms, such as:
Multi-cloud support. Most enterprises have or plan to pursue multi-cloud strategies, which generally include more than one public IaaS provider, plus additional vendors and tools that support these deployments, including cloud management platforms, cloud services brokers and specialized security and governance tools. Popular positions include multi-cloud technologist, cross-cloud database specialist and cloud portability architect. These roles typically require knowledge of data integration tools, configuration management and DevOps.
Demand for AI, serverless skills
also set to rise
While most organizations are still in the early days of AI and serverless adoption, they will increasingly look to recruit skills around these technologies as they put them to use in the cloud.
With AI, for instance, enterprises will seek cloud professionals who have some experience with data science, as well as knowledge of cloud-native services, such Azure Machine Learning or Amazon SageMaker.
On the serverless front, organizations will value IT professionals who understand the unique management and cost structures that come with the technology.
Provider knowledge. Part of a successful multi-cloud strategy is understanding the key differences, including strengths and weaknesses, between cloud providers' technologies. This ensures an enterprise can make sound calls in platform selection. A deep understanding of provider offerings, for example, helps a business decide which cloud vendor would offer them the best object storage option, whether based on price or performance. In short, you need to become a cross-cloud expert.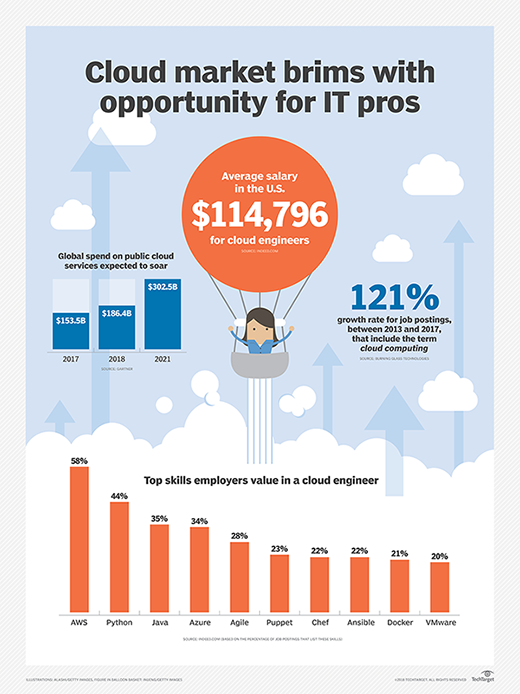 Make it official with cloud computing certifications
As cloud computing jobs are on the rise, so, too, are training and certification programs. You can gain certifications in specific vendor technologies, along with other skills that can help your resume stand out from the crowd.
Depending on what cloud computing career path you choose, here are some popular options to consider:
Cloud Security Alliance's Certificate of Cloud Security Knowledge (CCSK);
AWS Certified Solutions Architect;
Microsoft Cloud Platform and Infrastructure (MCSE);
Google Certified Professional Architect;
VMware Certified Professional (VCP); and
Cisco Certified Network Associate (CCNA) Cloud.
Vendors tend to focus these certification programs on their own products, but they also help build basic knowledge of cloud computing architectures.
Most IT pros who work in cloud positions either learned on the job or are self-taught. As these certification programs continue to grow in popularity, however, more employers might require them. But the required skills for many cloud computing jobs go well beyond what you can learn in the classroom. As a result, those cloud experts who have consistent motivation to learn and keep up with the rapid changes typically thrive.
Finally, another important factor in your cloud computing career is determining the type of company you want to work for. Big, bureaucratic companies typically offer stability, while smaller, more nimble companies like to change quickly and frequently to keep up with emerging technologies. Stability means a cloud professional can work on the same technology for years, and the company will value outcome over speed. On the other hand, firms who are quicker to pursue the latest technologies typically have their team work across various cloud technologies over shorter spans of time.
Dig Deeper on Cloud infrastructure design and management