Sergey Nivens - Fotolia
How to close the cloud skills gap at your enterprise
If your business struggles to hire IT pros with cloud experience, consider training your internal staff instead and create a supportive culture to get everyone on the same page.
With a dearth of qualified candidates for cloud-related positions, enterprises are often better served looking within to fill those roles.
A cloud skills gap is nothing new. Startups and other early adopters have faced an uphill hiring battle for years, because many IT pros lack the skills and experience needed to build and manage cloud-based applications. The shortage has been exacerbated by traditional enterprises' increased adoption of the cloud. In fact, a search of "cloud computing" jobs on popular career sites can turn up thousands of openings.
These enterprises' challenges are compounded by the fact that they can't offer the most exciting roles or the highest pay -- as compared to Silicon Valley software companies or the cloud providers themselves -- making it harder to attract and retain staff. But rather than give up, organizations should instead take a DIY approach to retrain existing staff, with an emphasis on culture and transparency, according to a recent Forrester Research report.
The hiring challenge, explained
The workforce shift to increase cloud expertise has been a slow process, according to Tracy Woo, Forrester analyst and lead author of the report. Top colleges and universities have added cloud-related courses, but they're not adding cloud degrees at a pace needed to keep up with demand.
This isn't unique to cloud. AI, machine learning and robotics are other fields struggling to hire talent that didn't grow up knowing these types of jobs would even exist, Woo said. But what separates cloud roles from those other fields is the relatively mundane nature of the job.
"If you look outside Silicon Valley, those are not necessarily sexy jobs," Woo said. "You don't go into [tech] to be an IT admin. You go into it to work in computer gaming or some exciting firmware."
The shortage puts a premium on the candidates who do have cloud-related skills. That's why for most large enterprises, hiring or training staff for these roles is a double-edged sword. As the cloud vendors themselves continue to grow exponentially, they might look to your ranks to fill their own staffing needs. So, you've essentially trained an employee to work for another company.
"What's the incentive of staying [at your current job] when you can go from making $90,000 to making $150,000 if you walk across the street to AWS? There's a lot of competition for this skill set," Woo said.
Because of the cloud skills gap, new hires can command salaries that range from the low $100,000s to mid $200,000s, depending on industry and location, according to Ryan Sutton, district president for Robert Half Technology and The Creative Group, overseeing New England and New York City.
And with ongoing concerns about the effects of the coronavirus pushing more workloads to the cloud, expect this shortage to be even more acute in the months and years ahead.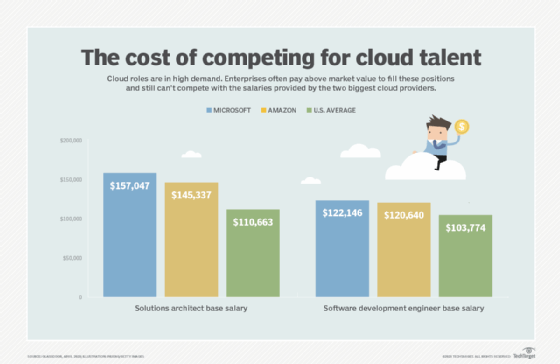 The challenge of building your cloud team from within
Enterprises shouldn't view this hiring dilemma as a lost cause. Instead of going after top talent, they could hire and train individuals with core Linux developer skills but less experience, rather than a seasoned cloud professional. Or they could turn to managed service providers to handle those administrations tasks for them. But the best option might be to transition and train existing team members you already trust, Woo said.
Even though he's an IT recruiter, Sutton recommends identifying and retraining staff first, before looking to external hires for cloud-related roles. Otherwise, these organizations will not only pay above market value, they'll also need to partner with an outside firm or have a strong internal recruiting team -- either of which adds to the total hiring cost.
"The first step is to have a robust assessment process, so you identify who on your team can help," Sutton said. "You might still have to go out to the market, but at least you'll have identified the right roles [to fill]."
Current employees have already embraced the company's values and have a fundamental understanding of its technology, said Drew Firment, senior vice president of cloud transformation at A Cloud Guru, a cloud training company. Current employees also know all the figurative skeletons in the data center closets, so they possess the institutional memory to help connect the dots, especially when the business undertakes a complex cloud migration.
"The idea that they're somehow not going to be able to support the organization just because we moved to cloud is sort of insane," Firment said. "The key is how do you unlock that potential and provide those individuals with a clear pathway."
What's the incentive of staying [at your current job] when you can go from making $90,000 to making $150,000 if you walk across the street to AWS? There's a lot of competition for this skill set.

Tracy WooForrester analyst
And while the payoff can be worth it with this approach, it does present its own set of challenges. Once you decide to build a cloud team and identify internal talent that would be a good fit, you need to train them and get them certified. And that won't happen overnight, since those employees still need to devote most of their work hours to their traditional roles.
For example, if you wanted employees to get the Azure Solutions Architect Expert certification, they would need to either complete 60 hours of self-led training, or take nine one-day training courses, as of publication. On top of that, they would need to study for and pass two separate exams. All told, it could take up to a year to fully transition that individual.
"It's a long, slow ramp up depending on the company, the resources and how much duplication they have within each of those roles," Woo said.
And while that might sound like a lot, the need to go this route only underscores how hard it is to find experienced talent in the market today.
Put an internal transition plan in place to close the cloud skills gap
Once an organization decides to stick with its internal team, the first thing it needs to do is identify its leaders, Woo said. Specifically, it needs to find a product owner and a cloud architect. These roles take longer to onboard, because the individuals need to understand the business' internal processes -- on top of gaining the necessary technical aptitude.
The product owner doesn't need prior, direct cloud experience, but they do need to be highly organized and possess exemplary management skills, Woo said. Ideally, they're already familiar with the company's processes.
The cloud architect should have some cloud experience, Woo said. They'll need to balance their understanding of cloud architectures with an ability to work well with the business side as well as the research and development teams.
Once those two positions are settled, the company can add cloud operations engineers, a DevOps team or any other role that fits within its cloud plans. But don't go overboard, Woo said. Start small, on one platform, with low-stakes projects. As the team gets settled, continue to build out staffing as appropriate.
Culture wins in the end
Transparency and support will be critical to this transition, according to Woo. Organizations need to broadcast status updates within the company, perhaps through emails or newsletters. This should provide visibility into ongoing projects and goals, as well as milestones that have been reached and the potential need to pull other individuals into the process.
Foster a culture that encourages staff members to invest in the company's long term-goals. Don't burn out staff with too much training at once and find ways to promote more collaboration, even if it entails simple gestures of gratitude in the form of T-shirts and free food.
The cloud represents a paradigm shift, so organizations need to ensure enough people in the company buy into the transition and understand the language, Firment said. Not only will this make them feel more engaged, it will also help attract new talent that wants to work somewhere that's committed to the cloud.
"You have to achieve critical mass in cloud fluency," Firment said. "If you just have an echo chamber within an organization, that's not going to get you very far."
And while the right culture won't prevent everyone from leaving for a higher-paying job, it will go a long way in preventing the type of attrition that could forestall a successful move to the cloud.
"People that want to leave will leave, no matter what," Woo said. "Creating a culture that celebrates achievements and individuals and what they're doing is the hardest thing to do, the most intangible thing to do but also the most important thing to do."