5 types of cloud skills that IT professionals should know
Cloud computing has spawned a spectrum of new IT roles, and professionals must sharpen their technology expertise to remain competitive in the job market. Review these top skills that IT pros should focus on.
As cloud computing evolves and technologies advance, companies need employees with certain cloud skills who can...
Continue Reading This Article
Enjoy this article as well as all of our content, including E-Guides, news, tips and more.
use those resources to the fullest. The result is new opportunities for IT staff in coding, operations, data, design and leadership.
Consider these five cloud skill sets that can enhance an organization's cloud deployment -- and breathe new life into IT employment.
Cloud architecture skills
The public cloud is not a singular technology; it is a wide assortment of prefabricated services and resources. A typical cloud provider offers dozens of different VM instances, along with services such as load balancing, storage, networking and more.
To get a workload into the cloud, an IT pro needs a keen understanding of the available cloud infrastructure offerings. Cloud architects assemble resources and services to create an environment that will produce the desired performance, availability, security and compliance, while still maintaining acceptable monthly costs.
Cloud architects are routinely involved in workload migrations. This can include detailed reporting and tracking to measure a cloud deployment's performance and cost, as well as consultations with department leaders to manage workload lifecycles.
The importance of cloud architecture knowledge, in relation to other cloud skills, continues to expand. Today, businesses are not satisfied if they commit to only one cloud. Companies seek the competitive potential of multi-cloud environments to save money or to guard against cloud outages. Cloud architects must be able to recommend the best cloud for the workload and migrate workloads between different clouds as needed.
Coding skills
Software developers are at the center of cloud use and adoption. In many cases, coding skills remain largely traditional. Developers use well-established programming languages to craft applications, APIs and other aspects of workloads that are designed and optimized to run within the public cloud.
But coding for the cloud extends beyond just writing software. Logic and syntactic mastery are vital for converting task sets, workflows and complex business policies. IT professionals can study countless programming languages, such as Java, Python and Ruby. However, the specific programming language you need to learn depends on your company's choice of cloud provider and the tasks your software must perform. For example, a back-end programmer using Google Cloud might use PHP, while a back-end programmer using AWS might use Perl.
Operations skills
Operations teams are central to IT and work together with software developers to accelerate the deployment and support of new workloads.
Operations skills cover a broad range of knowledge, including how to configure, provision and deploy workloads on IT infrastructure. Operations staff need to know the available cloud services, as well as how to properly secure, manage and monitor those resources.
The emergence of the public cloud poses a quandary for IT staff. In theory, some might think that the availability of a hosted IT infrastructure should reduce the importance of operations skills. This is only true for some aspects of the hosted infrastructure -- such as installing or troubleshooting gear -- but there are two issues that are often overlooked:
While the cloud is versatile, it is not automatic. In effect, operations teams guide businesses and ensure that workloads meet the organization's needs for performance, availability, security and compliance.
Workloads that remain local are typically the most mission-critical for the business. Operations teams have been forced to elevate their skills and be adept at high-end tasks, such as clustering for high availability, load balancing for performance and backup. Otherwise, they run the risk of having those workloads outsourced to the speed and agility of the cloud.
Data skills
Businesses like to crunch volumes of seemingly unrelated data to gain insights that might otherwise go unnoticed -- but the servers and storage needed to process data projects can be expensive. Big data is vital for the emerging AI and machine learning use cases that train models to make better decisions. With cloud provider services, tools and storage, these projects are increasingly common and affordable in cloud, which, in turn, drives the demand for data analysis skills.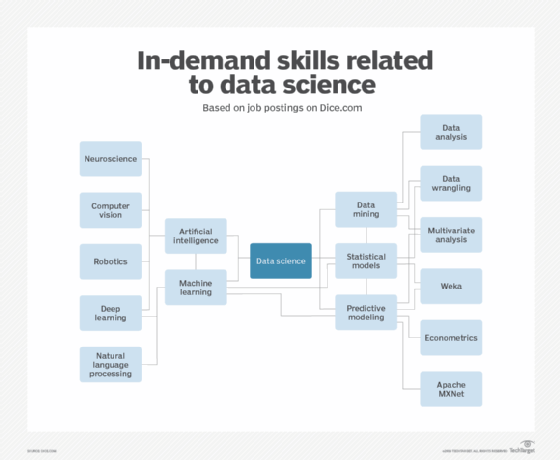 Today's data scientists have a mix of coding and infrastructure knowledge to help set up, deploy and execute analytics projects in the cloud. However, operations staff can cross over into data sciences with expertise in infrastructure and other advanced tools, such as log analytics. Data scientists also possess a solid knowledge of data protection and retention.
Business skills
Although technology sits squarely at the center of all computing, optimizing cloud resources and workloads isn't strictly a technological exercise; success is more than just getting a workload to run.
The cloud demands changes in organizational and operational strategies, as well as strong management and negotiation skills. The business side determines which workloads should be in the cloud, as well as acceptable levels of availability, compliance, cost and more. So, when you put workloads into the cloud, the cloud provider becomes a partner that a business relies on for day-to-day operations.
Some IT professionals choose to extend their careers by finding new opportunities on the business side of technology. IT pros have insight into how to work with cloud providers. They understand prevailing cloud service-level agreements and can employ metrics of performance and cost-effectiveness.
Some companies may blend such leadership into high-level cloud architect roles, while others might create a separate role, such as consulting and cloud guidance.
Dig Deeper on Cloud deployment and architecture