Definition
FinOps (FinOps Foundation)
FinOps (financial operations) is a framework for managing operating expenditures (Opex) in the cloud. An important goal of FinOps is to help cross-functional teams within the same organization maintain financial accountability for cloud services. Best practices for FinOps were developed by the FinOps foundation, a nonprofit trade association whose members include Atlassian and Cloudify.
The mission of the FinOps Foundation is to help distributed teams running in the cloud take advantage of the economic benefits that cloud deployments offer. FinOps supporters seek to create strong communication between an organization's information technology (IT) and finance teams so that stakeholders can quickly and easily determine which cloud services are providing business value and which are not.
FinOps foundation best practices
The FinOps foundation recommends an iterative approach to managing the variable cost of cloud services. Best practices include three phases that should be continually managed: inform, optimize and operate.
Inform - allocate, benchmark, and forecast cloud service needs.
Optimize - contrast the service needs of the company with discounts for time and reserved usage in order to get the cheapest rates.
Operate - continuously evaluate the performance of cloud services against business objectives for speed, quality and cost.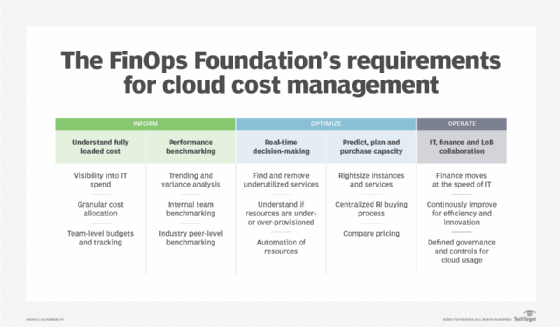 FinOps Framework vs. FINOP Series 27 Exam
The FinOps framework should not be confused with the Series 27 Exam offered by the Financial Industry Regulatory Authority (FINRA). The purpose of the Series 27 exam is to assess the competency of an entry-level Financial and Operations Principal (FINOP) candidate to act as the organization's Chief Financial Officer (CFO).
History of the FinOps Foundation
The FinOps Foundation is a nonprofit industry group started by Cloudify to help information technology (IT) professionals network and share best practices for purchasing cloud services across multiple cloud platforms. Founding members include the directors of cloud optimization services at Nationwide, Atlassian, Autodesk and Spotify.
Cloud infrastructure turns a fixed capital expense (Capex) into a variable spend model in the IT operational budget. Goals of the Foundation include the following:
Create and share best practices for the decentralized procurement of IT services.
Help IT and finance administrators feel comfortable with an operational budget that has a variable spend.
This was last updated in
December 2019
Continue Reading About FinOps (FinOps Foundation)